Monday Morning Clip - NFL Week 8 & More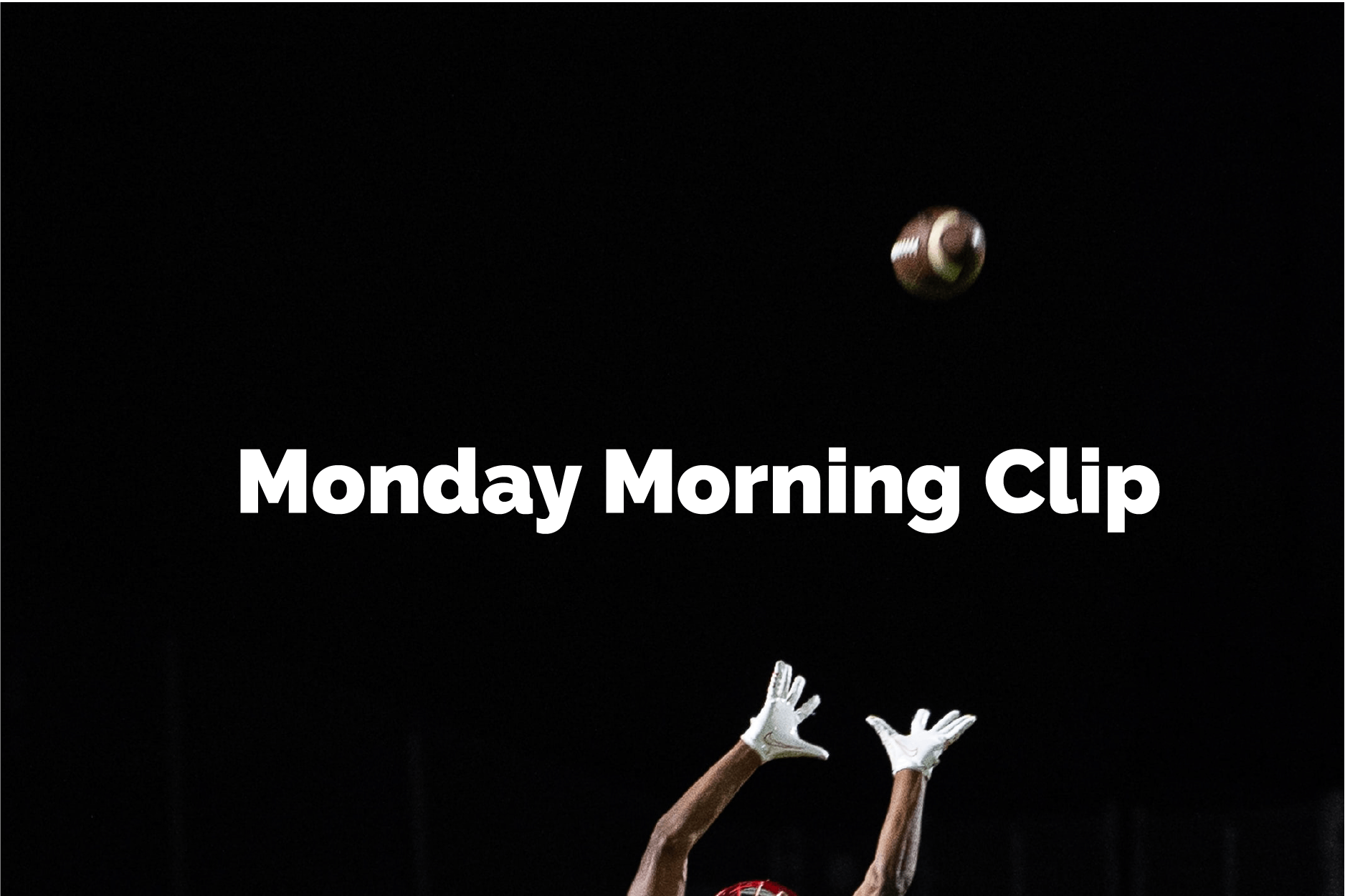 We're 8 weeks into the NFL season. We still have 10 remaining in the regular season, but we're getting to the point where we have enough information available to throw off who we thought the team was preseason and focus more on what they look like now. With Dak Prescott back and healthy for two weeks now, Dallas got the big win over Chicago where Tony Pollard scored three touchdowns. They, along with Minnesota (who got the win over Arizona), look like the biggest threats to Philadelphia in the NFC (who won big over Pittsburgh). On the other end, several Super Bowl-winning quarterbacks are running clearly struggling teams this season: Tampa Bay, Green Bay, and the LA Rams all lost this week to Baltimore, Buffalo, and San Francisco and none of the three have more than three wins. Las Vegas had high expectations for their offense after bringing in Davante Adams, but they are now 2-5 and were shut out by New Orleans. After a shaky start to the season, Tennessee has ripped off five straight wins (over Houston this week) and now looks head and shoulders above the rest of the AFC South. Miami has not lost yet with Tua Tagovailoa healthy and ripped off another big win on Sunday over Detroit. There are still some questions to be answered: after weeks of shocking the league, both New York teams dropped games to Seattle and New England, neither team juggernauts. Denver's struggles have been one of the league's hottest conversation topics this season, but they managed to get the win over Jacksonville in London. Washington was 2-4 with one of their wins coming in a 12-7 game, but have now won two straight with Taylor Heinicke at quarterback. Carolina had only scored more than 20 points once this season until PJ Walker took over at quarterback, but scored 34 in a heartbreaking OT loss to Atlanta this week. More questions will be answered as the season goes on, but more questions will come up along the way.
In college football, #2 Ohio State and #3 Tennessee got wins over their ranked opponents in #13 Penn State and #19 Ketucky, respectively. Beyond that, #9 Oklahoma State and #10 Wake Forest both took their second loss of the season to #22 Kansas State and Louisville. 8-0 #7 TCU now leads the Big 12 by 2 games while 8-0 #5 Clemson holds a 1-game lead over #17 7-1 North Carolina.
In the World Series, the Astros went up 5-0 in both of the first two games. The Phillies came back and won it in the 10th Game 1, but only managed two runs in Game 2. The series goes back to Philly tonight with the series tied at 1.
While the NBA season is still young (no team has played more than 7 games), the Portland Trail Blazers are 5-1 while the San Antonio Spurs and the Utah Jazz are both 5-2. The Brooklyn Nets and the LA Lakers are both 1-5, with the Lakers getting their first win last night. If anything close to this holds, my predictions will be disastrously wrong.
Across the pond (independent of Denver's win over Jacksonville), Marcus Rashford's goal put Manchester United over West Ham. Kevin de Bruyne scored the only goal of the game in a win over Leicester City. Arsenal made easy work of last-place Nottingham Forest in a 5-0 win to stay 2 points ahead of Manchester City. Tottenham came back from down 2-0 to get the 3-2 win over AFC Bournemouth. A goal in the 89th minute by Crysencio Summerville gave Leeds United the 2-1 win over Liverpool.
NFL
Dallas 49, Chicago 29
Dallas scored touchdowns on each of their first four possessions and led 28-7 with 6:48 remaining in the half. Dak Prescott accounted for three of the touchdowns (2 passing including this one to CeeDee Lamb, 1 rushing) while Tony Pollard added a fourth. Chicago mounted a small comeback late in the half with a 17-yard pass from Justin Fields to N'Keal Harry. On top of that, a Dak Prescott interception with 40 seconds remaining set up a last-minute field goal by Chicago, making the score 28-17 at halftime. Chicago kept closing Dallas' lead early in the third when a 38-yard pass by Fields to Darnell Mooney set up a 12-yard touchdown run by Khalil Herbert. From there, Dallas turned it around when a 30-yard pass from Prescott to Schultz set up a 7-yard run by Tony Pollard. On the next possession, Micah Parsons ran a fumble recovery back 36 yards for a TD. Justin Fields found Cole Kmet for a 7-yard TD to make it a 2-touchdown game, but Dallas responded with a third Tony Pollard touchdown from 54 yards out.
Philadelphia 35, Pittsburgh 13
Jalen Hurts found AJ Brown for two touchdowns on their first two possessions (39 and 27 yards). Kenny Pickett found Chase Claypool for a touchdown between the two touchdowns, but Hurts found AJ Brown for a third touchdown to put the Eagles up 21-10 at halftime (29 yards). Jalen Hurts threw his fourth touchdown pass in the first possession of the second half on a 34-yarder to Zach Pascal. Early in the fourth, a 40-yarder from Hurts to AJ Brown set up an 11-yard TD run by Miles Sanders. Pittsburgh did not have a 3-and-out in the second half (after 3 in the first half), but only managed three points because of a field goal, fumble, punt, and an interception. Philadelphia sacked Pickett six times.
Minnesota 34, Arizona 27
Kirk Cousins ran one in from 17 yards out to open the scoring for Minnesota. After a field goal by Arizona, Cousins found Johnny Mundt for a 1-yard TD to go up 14-3. Arizona finally scored their first touchdown with 47 seconds remaining in the half on a 6-yard pass from Kyler Murray to DeAndre Hopkins. Minnesota made it to Arizona's 38 before halftime, but Greg Joseph missed the 38-yard field goal. Arizona took the lead when a 33-yard pass from Murray to Hopkins set up an 8-yard TD pass from Murray to Ertz. From there, the two teams' momentum followed turnovers. Minnesota retook the lead on a 7-yard run by Alexander Mattison, and an interception on the first play of the next drive set up a 4-yard TD run by Dalvin Cook. Arizona responded with a 38-yard TD pass from Murray to Rondale Moore, and a fumble on the next play set up an Arizona field goal, cutting Minnesota's lead to 2. A muffed punt by Arizona set up a touchdown for KJ Osborn, giving Minnesota a bit of cushion. Minnesota had 173 yards rushing and three touchdowns on the ground, and Za'Darius Smith had three sacks for Minnesota.
Buffalo 27, Green Bay 17
Josh Allen found Dawson Knox from 1 yard out to open up scoring, and added to it their next possession with a 26-yard TD from Allen to Stefon Diggs. Green Bay got on the board with a 19-yard pass from Aaron Rodgers to Romeo Doubs, but Buffalo responded with an 80-yard drive capped off by a 7-yard TD by Isaih McKenzie. After trading field goals on their first two possessions of the second half, Buffalo led 27-10. Green Bay had a turnover on downs and an interception, but Buffalo had two interceptions of their own before Aaron Rodgers found Samori Toure for a 37-yard TD to make it a 10-point game. Green Bay attempted a 2-minute drill, but it effectively ended when Mason Crosby missed a 55-yard field goal with 38 seconds remaining.
San Francisco 31, LA Rams 14
LA opened up scoring with a 1-yard sneak by Matt Stafford, but San Francisco responded with a 34-yard TD pass by Christian McCaffrey to Brandon Aiyuk. On the next possession, Stafford found Cooper Kupp for a 16-yard TD, and San Francisco responded with a field goal 1 minute before halftime. After punting on their first possession of the second half, San Francisco ripped off three straight touchdowns, with two of them going to Christian McCaffrey (1 rushing, 1 receiving) and the third to George Kittle. LA only managed four punts in the second half with two coming on three-and-out.
Seattle 27, NY Giants 13
This game got started with six straight punts by the two teams (with three coming on three-and-outs). Seattle opened up scoring with a 3-yard pass from Geno Smith to DK Metcalf, but a Seattle fumble on their own 2-yard line set up a Saquon Barkley touchdown. A Seattle field goal gave them the 10-7 lead before halftime. After three straight field goals to start the second half, it was tied at 13, but Seattle broke that tie with a 33-yard TD pass from Geno Smith to Tyler Lockett. Seattle later cemented their lead when they recovered a muffed punt and Kenneth Walker ran in a 16-yard TD two plays later.
Tennessee 17, Houston 10
Houston got on the board with a field goal after Malik Willis' interception gave them the ball on Houston's 11 yard line. Tennessee took the 7-3 lead when Derrick Henry ran in a 29-yard TD. Derrick Henry punched in another one on Tennessee's first possession of the second half, and a field goal put them up 17-3. After four punts to start the second half, a 44-yard pass from Davis Mills to Brandin Cooks set up a 3-yard TD pass from Mills to Dameon Pierce with 17 seconds remaining. Houston tried an onside kick, but were unsuccessful. Malik Willis threw for just 55 yards, but Tennessee ran for 314 yards and two touchdowns on 43 carries (219 yards and both touchdowns going to Derrick Henry). Houston ran for just 43 yards.
New Orleans 24, Las Vegas 0
New Orleans opened up scoring with an 84-yard drive capped off with a 3-yard run by Alvin Kamara. After a turnover on downs by Las Vegas set up a New Orleans field goal, a Derek Carr interception gave New Orleans a short field, and a 16-yard TD pass from Andy Dalton to Kamara came soon after. Will Lutz missed a 38-yard field goal before halftime, but New Orleans made it on their first possession of the second half with a 38-yard TD pass from Dalton to Kamara. Las Vegas only managed a pair of punts and a drive where they ran out of time during the second half. They only had 183 yards of total offense for the game.
Denver 21, Jacksonville 17 (played in London)
A Russell Wilson interception gave Jacksonville a short field and soon after, Trevor Lawrence found Evan Engram for a 22-yard TD. After a field goal put Jacksonville up 10-0, Denver responded with a 75-yard drive capped off with a 6-yard TD pass from Wilson to Jerry Jeudy. On Denver's first possession of the second half, a 38-yard pass from Wilson to Greg Dulcich set up a 1-yard TD run by Melvin Gordon. After six punts by the two teams (4 3-and-out), Jacksonville reopened scoring and took the lead on a 1-yard run by Travis Etienne. On the next possession, Wilson found KJ Hamler for a 47-yard pass, which set up a 2-yard TD run by Latavius Murray. Jacksonville got the ball back with 1:43 remaining, but Trevor Lawrence was intercepted on the first play of the drive.
Atlanta 37, Carolina 34 (OT)
Carolina scored first with a field goal, but Marcus Mariota found Kyle Pitts for a 2-yard TD to take the 7-3 lead in the second quarter. Carolina struck back with a 2-yard TD by D'Onta Foreman, but they gave the lead back to Atlanta Lorenzo Carter returned a PJ Walker interception for a pick-six before halftime. A field goal by Carolina put them just a point down, but a Mariota 25-yard TD screen pass to Tyler Allegier put them back up 8. On the next possession, D'Onta Foreman punched in another touchdown and converted the 2-point conversion to tie it. After an Atlanta field goal, a 39-yard pass from Walker to Terrence Marshall Jr. set up a third touchdown by D'Onta Foreman from 12 yards out. On the next possession, Mariota found Damiere Byrd for a 47-yard TD. After a field goal put Atlanta up 6, PJ Walker found DJ Moore for a 62-yard Hail Mary, but Moore was penalized during the celebration and they missed the extra point, sending the game to OT. Mariota was picked off and Carolina missed a field goal before Younghoe Koo hit a 41-yarder to win it for Atlanta.
Miami 31, Detroit 27
Detroit opened up scoring on their first possession with a 7-yard TD run by Jamaal Williams and after a fumble by Miami on their opening possession, a 58-yard pass from Jared Goff to TJ Hockenson set up a 7-yard TD pass from Goff to D'Andre Swift. Miami got on the board next possession with a touchdown on a 5-yard pass from Tua Tagovailoa to Jaylen Waddle. Detroit responded with a 43-yard pass from Goff to Kalif Raymond, which set up a 1-yard TD by Jamal Williams. On the next possession, Tua found Waddle again for a 29-yard TD. After trading field goals near the end of the half, Miami led 27-17. Miami scored on their opening possession on a 1-yard run by Alec Ingold, and scored again on their next possession on an 11-yard pass from Tua to Mike Gesicki to take the lead. After two punts on their first two possessions of the second half, Detroit made it to Miami's 35 before turning it over on downs.
New England 22, NY Jets 17
After trading field goals to start the scoring, the Jets scored the game's first touchdown on a 8-yard pass from Zach Wilson to Tyler Conklin. New England nabbed a second field goal before halftime to make it 10-6. New England's offense got off to a stronger start in the second half. A 38-yard run by Rhamondre Stevenson set up a 5-yard TD pass from Mac Jones to Jacobi Meyers, and they followed that with 2 straight field goals and a third early in the fourth. The Jets only managed a missed field goal, 2 punts, and 2 turnovers on downs before Wilson found Tyler Conklin for a 9-yard TD with 1:51 remaining. New England managed to hold the ball for the rest of the game.
Washington 17, Indianapolis 16
Indianapolis hit a field goal while Washington scored on a 9-yard pass from Taylor Heinicke to Atonio Gibson after a 42-yard pass from Heinicke to Terry McLaurin. Washington led 7-3 at halftime. A Washington turnover on downs on their own 49 set up an one of two Indianapolis field goals in the second half, and a Washington interception on their own 24 set up a 6-yard TD by Nyheim Hines. Washington's offense finally woke up and responded with a field goal. On their next possession, a 33-yard pass from Heinicke to McLaurin set up a 1-yard sneak to take the lead with 22 seconds remaining.
Baltimore 27, Tampa Bay 22 (played Thursday Night)
After Baltimore got started with a field goal, a 44-yard pass from Tom Brady to Chris Godwin set up a 1-yard TD run by Leonard Fournette. Tampa Bay followed that with a field goal and led 10-3 at halftime. From there, Baltimore scored touchdowns on three straight possessions to open up the second half, with two coming on runs from Kenyan Drake and Devin Duvernay and the third on a 15-yard pass from Lamar Jackson to Isaih Likely. Tampa Bay managed two field goals while Baltmore managed one immediately after their three touchdowns. Tampa Bay finally scored its first touchdown of the second half with 49 seconds remaining on an 8-yard pass from Tom Brady to Julio Jones, making the score 27-22. The onside kick failed, sealing the win for Baltimore. Baltimore ran for 231 yards compared to 44 for Tampa Bay and possessed the ball for 38:23.
Monday Night Football
Cincinnati @ Cleveland (+3); 8:15 PM
Kansas City and the LA Chargers had the bye this week
---
College Football
#1 Georgia 42, Florida 20
#2 Ohio State 44, #13 Penn State 31
#3 Tennessee 44, #19 Kentucky 6
#4 Michigan 29, Michigan State 7
#7 TCU 41, West Virginia 31
#8 Oregon 42, California 24
#22 Kansas State 48, #9 Oklahoma State 0
Louisville 48, #10 Wake Forest 21
#10 USC 45, Arizona 37
#12 UCLA 38, Stanford 13
#14 Utah 21, Washington State 17
#15 Ole Miss 31, Texas A&M 28
Notre Dame 41, #15 Syracuse 24
#17 Illinois 26, Nebraska 9
UCF 25, #20 Cincinnati 20
---
NBA
New Orleans 112, LA Clippers 91
New Orleans: Zion Williamson: 21 pts, 12 reb, 7 ast
Boston 112, Washington 94
Boston: Jaylen Brown: 24 pts, 10 reb; Jayson Tatum and Malcom Brogdon: 23 pts each
Detroit 128, Golden State 114
Detroit: Saddiq Bey: 28 pts, 6 reb; Cade Cunningham: 23 pts, 10 reb, 9 ast; Isaiah Stewart: 24 pts, 13 reb
Cleveland 121, New York 108
Cleveland: Donovan Mitchell: 38 pts, 12 ast; Kevin Love: 29 pts (8-13 3P)
San Antonio 107, Minnesota 98
San Antonio: Keldon Johnson: 25 pts, 8 ast, 6 reb
Dallas 114, Orlando 90
Dallas: Luka Doncic: 44 pts, 5 ast
Phoenix 124, Houston 109
Phoenix: Devin Booker: 30 pts, 6 ast
LA Lakers 121, Denver 110
LA Lakers: LeBron James: 26 pts, 8 ast, 6 reb; Anthony Davis: 23 pts, 15 reb
---