Monday Morning Clip - NFL Week 4 & More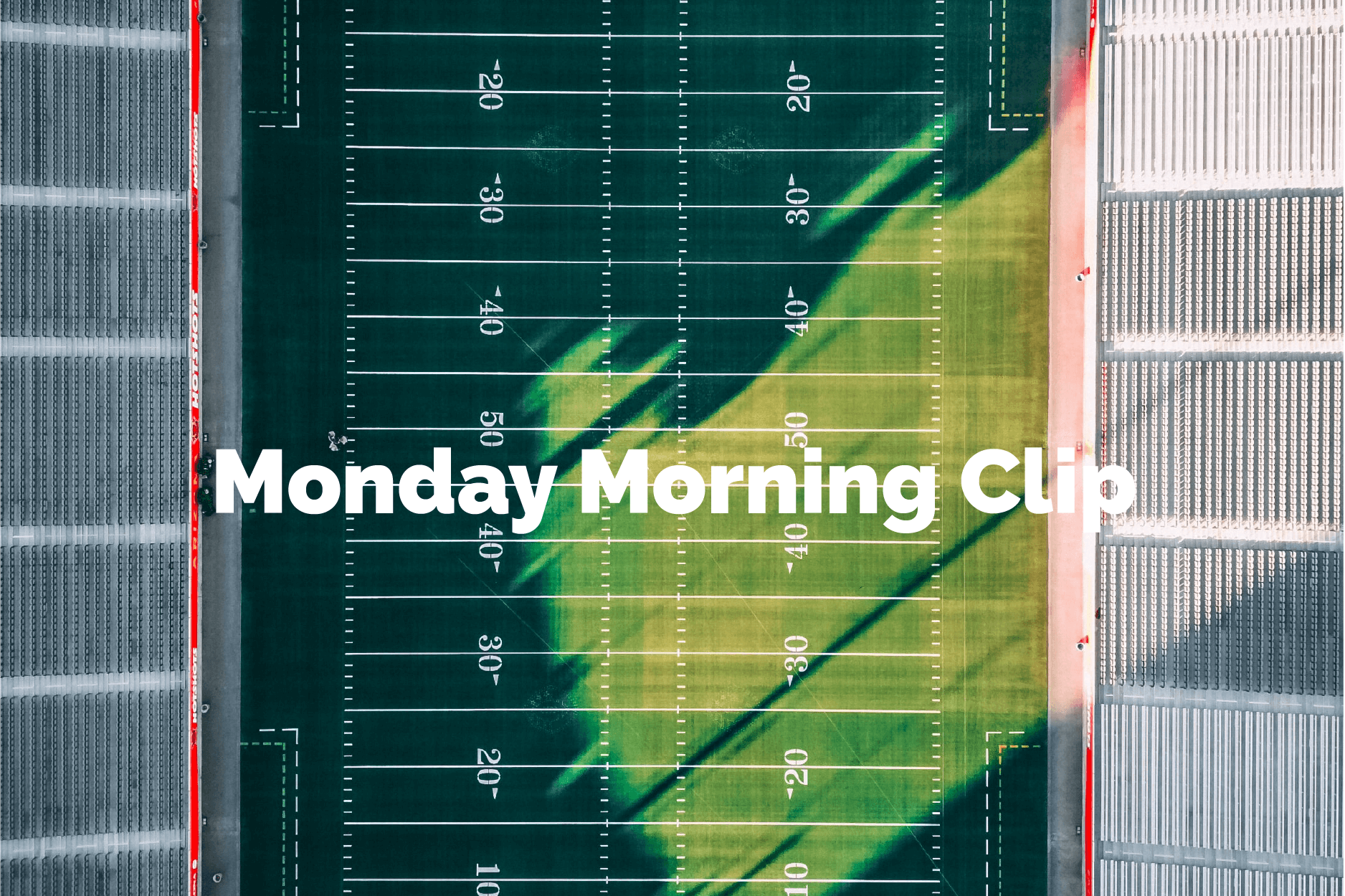 Very messy day of football across the league (particularly the East Coast) with the rain. I found myself writing a lot about fumbles in this one, so know that I'm not accidentally repeating the same point for different games (trust me, I thought I was too). After a week where Patrick Mahomes, Josh Allen, and Justin Herbert all lost, all three got back in the win column this week with wins over Tampa Bay (who has now lost 2 straight to Green Bay and Kansas City), Baltimore, and Houston, respectively. Green Bay needed overtime to beat New England, who was down to their third QB. Philadelphia remains the league's last undefeated team with the win over Jacksonville, who had won two straight by at least 24 before this one. Dallas has won three straight with Cooper Rush at QB with the win over Washington. Las Vegas finally got its first win over Denver, who drops to 1-3. Seattle topped Detroit in a game where defense was minimal and the box score was more inflated than the price of my Chipotle order. A double doink preserved Minnesota's win over New Orleans in London. The Jets won Zach Wilson's first game back, and the Giants got the win despite losing Daniel Jones, who sprained his ankle (double New York wins are getting less rare it seems). Tennessee won its second straight over Indianapolis after two losses to start the season. Arizona is 2-2 after a win over Carolina, and Cincinnati's incredible uniforms in a win over Miami were overshadowed by a frightening concussion for Tua Tagovailoa on Thursday Night.
In the MLB, three games remain in the regular season and almost all races are locked in except for the seeding in the AL Wild Card, Atlanta and the Mets in the NL East, and one spot up for grabs in the NL Wild card along with seeding there.
In College Football, #1 Georgia trailed Missouri 22-12 before scoring back-to-back touchdowns to escape with the win. The scare was enough to cost their top ranking, which was reclaimed by Alabama. Beyond that, two top 10 teams went down, with #10 NC State taking its first loss against #5 Clemson, and #7 Kentucky taking its first loss at the hands of #14 Ole Miss.
In the Premier League, Manchester City spanked Manchester United in a game where Elring Haaland and Phil Foden had three goals each. Arsenal topped Tottenham 3-1 in the North London Derby. Liverpool tied Brighton 3-3 after falling behind 2-0 but also holding a 3-2 lead. Chelsea beat Crystal Palace 2-1 on a late goal by Conor Gallagher.
NFL
Kansas City 41, Tampa Bay 31
A fumble by Tampa Bay on the opening kickoff gave Kansas City the ball on Tampa Bay's 21 and two plays later, Patrick Mahomes found Travis Kelce for a 16-yard TD. Kansas City kept their offense rolling with two more touchdowns in their next two possessions (the second one came on this play). A Tom Brady fumble gave them another short field, from which they punched in another touchdown with this direct snap TD by Noah Gray. Brady found Mike Evans for his second touchdown of the game before halftime, but Tampa Bay still trailed 28-17 at the half. Kansas City came out hot in the second half with 13 points in their first three possessions to go up 41-24. Tampa Bay eventually scored to make it a 10-point game, but there was 3:30 remaining and they didn't get the ball back again until there were 45 seconds left.
Green Bay 27, New England 24 (OT)
With Mac Jones nursing a high ankle sprain and Brian Hoyer injured in New England's second possession, they were left with third stringer Bailey Zappe at QB for most of the game. After leading 7-3 for most of the second quarter, Jack Jones ran back an Aaron Rodgers interception for a touchdown and a 10-7 New England lead at halftime. Scoring was much faster in the second half, as New England scored touchdowns on both of their first two possessions while Green Bay scored 17 points in their first three possessions (their first possession also included this catch by Allen Lazard). With the game tied at 24 and both teams failing to do much with their final possessions, it went to OT. Both teams had three-and-outs on their first possession, but Green Bay didn't waste their second opportunity, marching to New England's 13 before Mason Crosby hit the 31-yard game-winner as time expired. Green Bay outgained New England 443-271 for the game.
Buffalo 23, Baltimore 20
Two turnovers in Buffalo's first three drives led to 10 points on short drives for Baltimore turbo-charging their already fast start that had them leading 20-3 late in the second quarter. Buffalo had just 68 yards of offense prior to their last drive of the first half, where they completed a 76-yard drive with a 4-yard touchdown pass from Josh Allen to Isaiah McKenzie. With the score, they went into halftime down 20-10. In the third quarter, Baltimore's offense managed just one first down while Buffalo's offense scored 10 points on their two possessions to even the score at 20, with the game-tying touchdown coming on this 11-yard run by Josh Allen. In the fourth quarter, Baltimore's offense got going again with a 93-yard drive that lasted over 9 minutes, but Lamar Jackson's 4th down pass from the 2 was picked off by Jordan Poyer. It was Poyer's second interception that quarter. From there, Buffalo chewed up both yardage and clock to set up a 21-yard game-winning field goal by Tyler Bass as time expired. Also, this play happened.
Philadelphia 29, Jacksonville 21
Philadelphia got off to an uncharacteristically cold start when Jalen Hurts threw a pick-six in their first possession, and Jacksonville quickly added to their lead with an 80-yard drive capped off with a 4-yard touchdown pass from Trevor Lawrence to Jamal Agnew. From there, Jacksonville's offense fumbled twice, making it all too easy for Philadelphia to rack up 20 points in the second quarter (one missed extra point, fourth second quarter with at least 17 points this season). From there, an interception and a fumble by Jacksonville resulted in 9 more points for Philadelphia (a missed two-point conversion). Jacksonville eventually struck back with a touchdown following a 45-yard pass from Trevor Lawrence to Christian Kirk to make it a 29-21 game with 7:19 remaining. They got the ball back with 1:48 remaining, but Trevor Lawrence lost his fourth fumble of the game to seal the win for Philadelphia. Philadelphia ran the ball 50 times for 210 yards and four touchdowns, with Miles Sanders racking up 134 yards and two touchdowns on 27 carries.
Dallas 25, Washington 10
Washington briefly took the 7-6 lead in the second quarter after Carson Wentz found Jahan Dotson for a 10-yard touchdown, but Dallas responded quickly with a touchdown drive of their own, capped off with a 9-yard touchdown pass from Cooper Rush to Michael Gallup. After trading field goals in the third quarter, Cooper Rush put Dallas in the end zone again, this time on a 30-yard pass to CeeDee Lamb. From there, Washington only managed a punt, an interception, and two turnovers on downs.
Las Vegas 32, Denver 23
A 30-yard punt return by Montrell Washington set up Denver with a short field for their first touchdown, but Las Vegas quickly responded in kind with a 10-yard run by Josh Jacobs. Las Vegas then took the lead when Amik Robertson ran back a fumble 68 yards for a touchdown, but Denver responded on their next possession when Russell Wilson connected with Jerry Jeudy for a 20-yard touchdown. Both teams even missed the extra point to stay tied. Las Vegas hit a field goal at the end of the first half to take the 19-16 lead. After four punts by Denver (while Las Vegas hit two field goals), Denver got back to scoring when Russell Wilson hit KJ Hamler for 55 yards and Wilson ran it in from 3 yards out the next play. Still holding a two-point lead, Las Vegas responded with a touchdown of their own, a 7-yard run by Josh Jacobs, his second of the game. That sealed the win for Las Vegas, who ran for 212 yards compared to 85 for Denver.
LA Chargers 34, Houston 24
A Davis Mills interception gave LA a short field on their first possession and from there, Justin Herbert connected with Gerald Everett for an 18-yard TD. A touchdown by Austin Ekeler early in the second quarter put them up 14-0, and a 50-yard bomb by Justin Herbert set up a 20-yard TD run by Ekeler, which put them up 21-0. Dameon Pierce had a 75-yard TD run to put Houston on the board before halftime, but they were still down 27-7 at the half. However, they scored 17 points unanswered to start the second half, putting them within a field goal with 8:30 remaining. Davis Mills got going with two touchdown passes and this deep ball. LA finally responded with a touchdown drive ending in a third Austin Ekeler touchdown, this one a 14-yard pass from Herbert. Davis Mills was intercepted just inside the two-minute warning, effectively sealing the win for LA after back-to-back losses.
Seattle 48, Detroit 45
This game did not have a lot of defense. Seattle scored 24 points on four possessions in the first half and the only time they lost possession beyond a kickoff came on a muffed punt on their own 32, which set up Detroit's first touchdown on the next play. Fumbles hurt both teams, as a Detroit fumble set up Seattle's final touchdown of the first half. Seattle led 24-15 at halftime, and they added to that quickly with a pick-six by Tariq Wollen on the first play of the second half. Big plays kept Detroit in it like this 51-yard TD run by Jamal Williams and an 81-yard catch-and-run by TJ Hockenson that set up another Detroit touchdown. The big plays got Detroit within three twice, but they never tied it or took the lead. A late 41-yard TD by Rashad Penny helped Seattle maintain their lead. Detroit responded with one more touchdown with 1:06 remaining, but Seattle recovered the onside kick to seal the game. The two teams combined for 1,075 yards of total offense.
Minnesota 28, New Orleans 25 (played in Tottenham Hotspur Stadium, London)
Minnesota got started quickly when Alex Mattison ran a Kirk Cousins screen pass in for a 15-yard TD. New Orleans eventually responded when Andy Dalton, who started for an injured Jameis Winston, found Chris Olave for a 4-yard TD in the second quarter. Minnesota hit two field goals to go up 13-7 at halftime. Two New Orleans touchdowns in the second half gave them the 22-19 lead, but Minnesota responded with a Justin Jefferson jet sweep to punch it in from 3 yards out. Will Lutz hit a 60-yard FG to tie it up for New Orleans, but Greg Joseph responded with his fifth FG of the day to retake the lead with 24 seconds remaining. New Orleans got it to Minnesota's 43, but Will Lutz missed a 61-yarder on a double doink, ensuring Minnesota left London with a win.
NY Jets 24, Pittsburgh 20
In Zach Wilson's first game back after injury, the Jets got on the board first and led 10-0 early in the second quarter (Wilson even caught a TD pass from Braxton Berrios). However, the offense became completely anemic for the middle of the game, with a six-possession stretch that included four punts (two three-and-out) and two interceptions. For Pittsburgh, Kenny Pickett replaced Mitchell Trubisky at halftime and after an interception on his first drive, he led Pittsburgh to two straight touchdown drives (one was 4 yards long after a Zach Wilson interception) that put Pittsburgh up 20-10. From there, Wilson turned it around with two separate 20-yard throws on a drive that ended with a 5-yard TD pass from Wilson to Corey Davis. After a Kenny Pickett interception, Wilson got the ball back and a 2-yard run by Breece Hall put them up 24-20 with 16 seconds remaining. Kenny Pickett's Hail Mary ended in an interception.
Tennessee 24, Indianapolis 17
A Matt Ryan fumble gave Tennessee a short field on their opening possession (feels like I've written something like that a lot), and from there, Ryan Tannehill found Robert Woods for a 7-yard TD. Derrick Henry ensured that Tennessee kept it rolling on the next drive with a 22-yard catch and 19-yard touchdown run. A Matt Ryan interception gave Tennessee another short field, which they punched in to go up 24-3. Indianapolis threw a drive together that ended in a 14-yard touchdown pass from Ryan to Mo-Alie Cox before halftime, cutting Indianapolis's lead to 24-10. Matt Ryan found Mo-Alie Cox again for a touchdown on Indy's first possession of the second half, but that was the last time either team scored. Tennessee managed just 3 first downs in the second half, but a fumble and missed field goal in Indy's last two possessions secured the win.
Atlanta 23, Cleveland 20
Two turnovers by Cleveland in their first two drives (1 on downs, 1 fumble) helped Atlanta get off to a 10-0 lead (including this 13-yard TD run by Cordarrelle Patterson), but Cleveland scored 10 points of their own in their last two possessions of the first half to even the score at 10. After trading punts for much of the third quarter, an Atlanta interception gave Cleveland the ball at the 43, which led to a Cleveland field goal. Atlanta responded with a touchdown drive where they ran the ball on 10 straight plays, but Cleveland scored again on the next possession with a drive that ended with back-to-back 20-yard runs, the latter being a 28-yard TD. Atlanta hit two straight field goals to take the lead. Cleveland got the ball back with 2:28 remaining, but Jacoby Brissett was intercepted, sealing the win for Atlanta. In a game where both teams ran the ball well, Cleveland had 234 yards passing compared to 139 for Atlanta.
Arizona 26, Carolina 16
After a scoreless first quarter, Carolina got on the board first when Frankie Luvu took a Kyler Murray interception back 33 yards for a touchdown. A Carolina fumble helped Arizona get on the board with a field goal, but Carolina got one back right before halftime to go up 10-3. Arizona's offense got going quickly in the second half, putting 10 points on the board to take the 13-10 lead. Turnovers by Carolina on their next two possessions resulted in two more short fields and two more touchdowns by Arizona (the latter being this one from Kyler Murray to Marquise Brown) in five combined plays. Carolina got a touchdown back with 4:47 remaining, but Arizona kept possession for the rest of the game to ensure the win.
NY Giants 20, Chicago 12
Chicago hit two field goals in their first two possessions and a third before half, but two rushing touchdowns by Daniel Jones carried the Giants to a 14-9 halftime lead. Chicago hit a fourth field goal to start the second half, but only managed one first down for the rest of the game after that. The Giants did not do much more offensively, but managed two pad their lead with two more field goals. Daniel Jones and Tyrod Taylor threw for a combined 82 yards, but the Giants ran for 262 yards on 44 carries.
Cincinnati 27, Miami 15 (played Thursday Night)
Tua Tagovailoa went down in the second quarter and was taken to the hospital, but was released on Friday. Cincinnati scored a touchdown on their opening possession, but two field goals before Tua's injury brought them close to even. Joe Burrow and Tee Higgins connected for a 59-yard TD before halftime, but Teddy Bridgewater hit Chase Edmonds for a 7-yard TD to keep pace, resulting in a 14-12 score at halftime. After a scoring drought and trading field goals, Cincinnati finally found the end zone with just under two minutes remaining to pad their lead, which was 5 points at the time.
Monday Night Football
LA Rams @ San Francisco (-1.5); 8:15 PM
---
College Football
#1 Georgia 26, Missouri 22
#2 Alabama 49, Arkansas 26
#3 Ohio State 49, Rutgers 10
#4 Michigan 27, Iowa 14
#5 Clemson 30, #10 NC State 10
#6 USC 42, Arizona State 25
#14 Ole Miss 22, #7 Kentucky 19
#9 Oklahoma State 36, #16 Baylor 25
#11 Penn State 17, Northwestern 7
#12 Utah 42, Oregon State 16
#13 Oregon 45, Stanford 27
UCLA 40, #15 Washington 32
Mississippi State 42, #17 Texas A&M 24
TCU 55, #18 Oklahoma 24
#19 BYU 38, Utah State 26
---
MLB
- 3 games remaining in regular season
NY Yankees have clinched AL East and #2 in AL
Baltimore 3, NY Yankees 1
AL Wild Card (Toronto leads Seattle for the top spot by 2.5 games, who leads Tampa Bay by 1 game for 2nd spot; all have clinched spots)
Toronto 6, Boston 3
Oakland 10, Seattle 3
Houston clinched AL West and AL home field advantage
Houston 3, Tampa Bay 1
Cleveland clinched AL Central
Cleveland 7, Kansas City 5
Atlanta leads NY Mets by 2 games for NL East; winner will be #2 in NL
Atlanta 5, NY Mets 3
St. Louis clinched NL Central
Pittsburgh 7, St. Louis 5
LA Dodgers clinched NL West and Playoff home field advantage
Colorado 4, LA Dodgers 1
NL Wild Card (The loser of the NY Mets/Atlanta race has top spot, San Diego leads Philadelphia by 1 game who leads Milwaukee by 2 games for the remaining 2 spots)
Chicago White Sox 2, San Diego 1
Philadelphia 8, Washington 1 (F/6)
Miami 4, Milwaukee 3 (F/12)
Eliminated Teams
Detroit 5, Minnesota 3
Chicago 8, Cincinnati 1
San Francisco 4, Arizona 3 (F/10)
LA Angels 8, Texas 3
---