Monday Morning Clip May 30, 2022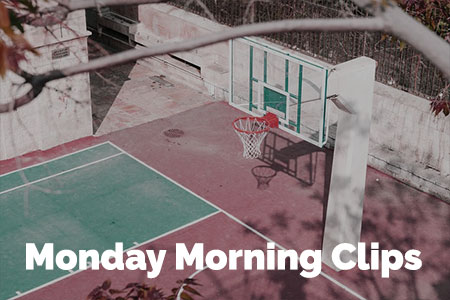 So the NBA Finals is set with Golden State with Boston set to tip off on Thursday. On one end, Golden State is a refurbished team, but has the core of the same dynasty that first topped Cleveland in 2015. While it has only been four years since Golden State last won the NBA Finals, none of the three teams (Toronto, LA Lakers, Milwaukee) that won the title since then have made it past the second round of the playoffs since their title.
Before then, Cleveland faced off with Golden State two more times in the finals after their 2016 title before LeBron left for LA. San Antonio made it back to the Conference finals three years after they won the title in 2014, but Kawhi Leonard injured his ankle in an infamous tie-up with Zaza Pachulia in Game 1 of that series. Kawhi's rehab from that injury led to a souring of relations in San Antonio, which ended in him being traded to Toronto. After four straight finals trips for Miami, LeBron left for Cleveland and the next time Miami made it back, they were facing LeBron in the bubble. Prior to this season, the Dallas Mavericks had not made it past the First Round since their title in 2011.
In the recent NBA, the title windows for teams are short more often than long, and largely determined by the movements of a small set of superstar players and the teams best built to complement them. Golden State has had a player on that short list along with much of the team that initially launched them into contention for a long time now. They now face a young and undeniably talented Boston team that reached three Eastern Conference Finals before finally breaking into the NBA Finals this season. With the young talent they have under their control, a Finals win could be the start of another extended title window similar to that of Golden State's.
Quick note: for the rest of the NBA Finals, I'll be writing a Monday Morning Clip after each game instead of weekly.
NBA
Boston 100, Miami 96
Boston led 32-17 at the end of the first quarter and never gave up the lead at any point during this game. Miami cut the lead to 4 early in the third quarter, 3 early in the fourth quarter, and 2 with under a minute remaining. If Jimmy Butler's three pointer with 16.6 seconds remaining had fallen, Miami would have taken the lead. Missed three pointers plagued Miami throughout the night, as they made only six of their 30 three-pointers. Jimmy Butler (35 pts, 9 reb) and Bam Adebayo (25 pts, 11 reb) both hit over 50% of their shots and scored a combined 60 points, but the rest of the team hit just 12 of their 43 shots (27.9%), and no player other than Butler and Adebayo hit more than a third of their shots. For Boston, Jayson Tatum (26 pts, 10 reb, 6 ast) was not incredibly efficient (9-21 FG), but hit four of his seven three-pointers. Jaylen Brown and Marcus Smart also contributed 24 points each.
Series Wrapped
Boston vs. Miami
The issues that plagued Miami in Game 7 were a microcosm of the entire series. Throughout this season, Miami had supplemented Butler and Adebayo's scoring with an array of shooters including Duncan Robinson, Tyler Herro, Max Strus, Gabe Vincent, and more recently, Victor Oladipo. Tyler Herro, who only played in four games due to a groin injury, hit just one of his 15 three-point attempts during the series. Not one of the six players who shot the most three-pointers during the series made more than 30% of them. This left them extremely dependent on Butler and Adebayo and in the three games they won, Butler scored at least 40 on more than 50% shooting in two of them and Adebayo scored 30 in the third on more than 65% shooting. For Boston, Jayson Tatum continued to show up, but so did Jaylen Brown, who hit more than 40% of his three-pointers throughout the series. That was particularly important in game 5 where Brown hit 5 threes, matching the rest of his team's total in a 93-80 win. Their defensive efforts were even more critical this series, and in their four wins, Miami never scored more than 105 points. Miami's offseason may include a search for a more reliable third scorer, especially from the perimeter.
Golden State vs. Dallas
After his worst 3-point shooting regular season of his career and continued poor shooting during the previous round, Steph Curry found his stroke against Dallas, hitting 43.8% of his three-pointers throughout the series. While Klay Thompson did not enjoy the same series that Curry did, he hit eight of his sixteen three-pointers in a series-clinching Game 5 when Steph was having an off night. Dallas had relied on heavy scoring from Luka Doncic and their 3-point shooting throughout the playoffs, and it's not that either completely faltered against Golden State. Luka averaged 32 points on 41.5% FG (down from 47.6% the previous round), but they shot over 40% from 3 in three of five games, and only Maxi Kleber and Davis Bertans had real declines in 3P% from their series with Phoenix. However, they did face a real deficit rebounding, as they had at least 13 fewer rebounds in each of the four games they lost in this series. For Golden State, Kevon Looney averaged 10.6 rebounds in just 28 minutes. Whether Dallas continues with Dinwiddie and Brunson along with Doncic, their offseason will likely involve a search for someone to lessen the burden on Luka to be such a ball-dominant scorer.
---
MLB
Boston 12, Baltimore 2
Boston: Xander Bogaerts: 3-5, 2 2B, 3 RBI
San Francisco 6, Cincinnati 4
Washington 6, Colorado 5
Atlanta 6, Miami 3
Atlanta: Marcell Ozuna: 2-4, 2 HR, 2 RBI
Detroit 2, Cleveland 1
Cleveland: Triston McKenzie: 7.2 IP, 4 H, 2 ER, 8 K
Tampa Bay 4, NY Yankees 2
Chicago White Sox 5, Chicago Cubs 4 (F/12)
Chicago White Sox: Jake Burger: walk-off single; Dylan Cease: 7 IP, 2 H, R (0 ER), 5 K
Chicago Cubs: Marcus Stroman: 7 IP, 3 H, 0 ER, 2 K
Minnesota 7, Kansas City 3
Milwaukee 8, St. Louis 0
Milwaukee: Corbin Burnes: 7 IP, 2 H, 0 ER, 11 K; Lorenzo Cain: 3-4, HR, 3 RBI
Oakland 6, Texas 5
Toronto 11, LA Angels 10
Toronto: Lourdes Gurriel: 2-3, 2 2B, 3 RBI
LA Angels: Shohei Ohtani: 2-3, 2 HR, 5 RBI
Houston 2, Seattle 1
Seattle: Marco Gonzales: 7.1 IP, 5 H, 2 ER, 2 K
LA Dodgers 3, Arizona 1
LA Dodgers: Tyler Anderson: 6 IP, 5 H, 0 ER, 6 K
San Diego 4, Pittsburgh 2 (F/10)
San Diego: MacKenzie Gore: 7 IP, 2 H, 0 ER, 9 K; Trent Grisham: walk-off HR
NY Mets 5, Philadelphia 4 (F/10)
NY Mets: Eduardo Escobar: walk-off double
---