Monday Morning Clip - NFL Week 6 & More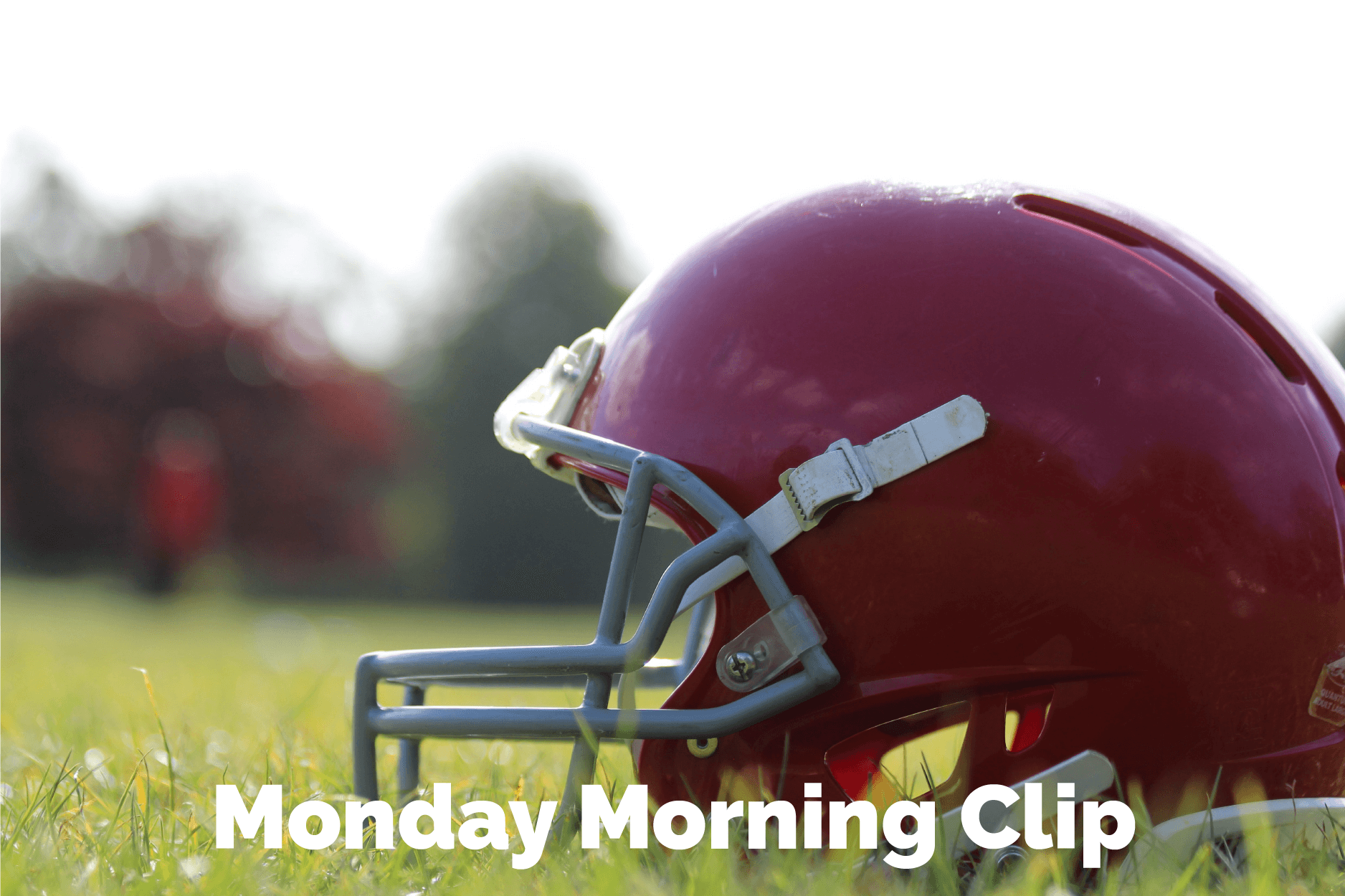 Incredible sports weekend - several top tier NFL games, four of the top 10 College Football teams taking losses despite some having bye weeks, and the MLB Division series was rolling. On top of all that, the NBA starts on Tuesday - keep your eyes on your inboxes this week for something special. In the NFL, Josh Allen won a close one over Patrick Mahomes. Philadelphia picked off Cooper Rush three times to get the win over Dallas and remain undefeated. Two late turnovers by Lamar Jackson secured the win for the Giants over Baltimore, as the Giants improved to 5-1. Former Patriot Jacoby Brisset turned the ball over three times as Cleveland dropped one to New England, and the Jets pulled off another big win, this one over Green Bay. Matt Ryan threw the ball 58 times for 389 yards in a last-minute win over Jacksonville. Miami had a third QB injured in a loss to Minnesota. In their first game back in New Orleans since their national title win over Clemson, Joe Burrow and Ja'marr Chase connected for two scores to beat the Saints. Also, Burrow entered the stadium wearing Ja'marr Chase's national championship jersey. In their first week after firing Matt Rhule and without Baker Mayfield (ankle), the Carolina Panthers were as sad as ever in a loss to the LA Rams. Atlanta is shockingly 3-3 after a win over San Francisco. In a trio of low scorers, Seattle, Pittsburgh, and Washington got wins over Arizona, Tampa Bay, and Chicago (the last one being on Thursday Night).
In College Football, Tennessee got the win over Alabama, took the goal posts down, and apparently threw them in the river that night. Beyond that, #5 Michigan got a big home win over #10 Penn State, #13 TCU (and still undefeated) took two overtimes to top formerly undefeated #8 Oklahoma State. On the West Coast, #20 Utah handed #7 USC its first loss.
In the MLB, two of the three teams to pull off 100 regular season wins this season when San Diego and Philadelphia finished off the LA Dodgers and Atlanta, respectively. Houston, who knocked out Seattle on Saturday in an 18-inning marathon, awaits the winner of the series between the NY Yankees and Cleveland.
Across the pond, Real Madrid got the 3-1 win over Barcelona in El Clasico. In England, Liverpool got the 1-0 win over Manchester City, handing them their first league loss since February of last season. Arsenal extended its lead in the Premier league with a 1-0 win over Leeds United. Two goals by Mason Mount put Chelsea over Aston Villa. Manchester United had a scoreless draw against Newcastle United, and Tottenham got a 2-0 win over Everton.
NFL
Buffalo 24, Kansas City 20
To start the game, both teams got the ball into the red zone, but a Josh Allen fumble and a Patrick Mahomes interception kept both teams from scoring points. After a Buffalo field goal, both Mahomes and Juju Smith-Schuster broke a few tackles and connected for a 42-yard touchdown. After another trip to the red zone with no points (turnover on downs), Buffalo finally got on the board with 16 seconds remaining in the half with a 34-yard TD pass from Josh Allen to Gabe Davis. Kansas City, not a team to waste that much time against Buffalo, got the ball to Buffalo's 44 and Harrison Butker hit a 62-yard FG before halftime to tie it at 10. Buffalo struck first in the second half with a 17-yard TD pass from Allen to Stefon Diggs, but Kansas City gained 64 yards in the first two plays of the ensuing drive and capped it off with a 3-yard TD pass from Mahomes to Mecole Hardman. After a field goal put Kansas City ahead, Buffalo made their way down the field on a drive that included Josh Allen hurdling a defender and finishing with a 14-yard TD pass to Dawson Knox with 1:04 remaining. Kansas City got the ball back, but Taron Johnson picked off Mahomes two plays into the drive, securing the road win for Buffalo.
Philadelphia 26, Dallas 17
On the first play of the second quarter, Miles Sanders capped off a long Philadelphia drive with a 5-yard TD, the first of the game by either team. On the next possession, a Cooper Rush interception gave Philadelphia the ball at the Dallas 44 and from there, Jalen Hurts found AJ Brown for a 15-yard TD. Another Cooper Rush interception set up a Philadelphia field goal and they led 20-3 at halftime. Dallas scored on their first second half possession with a 14-yard TD run by Ezekiel Elliott and on their next possession, a 93-yard drive was capped off by a 7-yard TD pass from Rush to Jake Ferguson. Up only 20-17 at this point, Philadelphia responded with a 13-play drive capped off with a 7-yard pass from Hurts to DeVonta Smith. Dallas only managed an interception and a missed field goal in their final two possessions.
NY Giants 24, Baltimore 20
Since Justin Tucker had his first FG miss of the season (from 56 yards), there was no scoring in the first quarter. Baltimore opened up scoring with a 30-yard run by Kenyan Drake, and the Giants started the next drive with a 47-yard kickoff return by Gary Brightwell and finished with a 5-yard pass from Daniel Jones to Wan'Dale Robinson. Baltimore led 13-10 before they scored their next touchdown on a 12-yard pass from Lamar Jackson to Mark Andrews. On the next possession, the Giants drove 75 yards finishing with an 8-yard TD pass from Daniel Jones to Daniel Bellinger, cutting Baltimore's lead to 20-17. On the next drive, Lamar Jackson was intercepted on a broken play and Julian Love ran it back to Baltimore's 13 yard line. Four plays later, Saquon Barkley punched in the 1-yard touchdown with 1:43 remaining. Baltimore got the ball back, but Lamar Jackson lost a fumble on the second play of the drive, sealing the win for the Giants.
New England 38, Cleveland 15
After exchanging field goals in the first quarter, Rhamondre Stevenson broke a 31-yard run for a touchdown 3:23 before halftime. Cleveland hit a second field goal before halftime, but they led 10-6. A 53-yard pass from Bailey Zappe to Jonnu Smith set up a touchdown a few plays later on New England's opening second half possession and from there, Cleveland's turnovers made it remarkably easy for New England. An interception gave New England the ball at Cleveland's 40 and they scored three plays later to put them up 24-6. Cleveland managed a field goal and touchdown on a 15-yard pass from Jacoby Brissett to Amari Cooper to make it 24-15, but more turnovers kept them from getting closer. Two fumbles (one being a muffed punt) gave New England the ball on Cleveland's 19 and 8, both of which were run in for touchdowns, adding to New England's lead late in the game.
NY Jets 27, Green Bay 10
This game started with six straight punts (4 being three-and-outs), a missed field goal, then three more punts (2 more three-and-outs). Eventually both teams hit a field goal before halftime. The Jets scored the game's first touchdown when Zach Wilson hit Corey Davis for a 41-yard gain and Braxton Berrios ran it in from 20 yards out the next play. They added to their lead soon after when Will Parks ran in a blocked punt for a touchdown. Green Bay scored their first touchdown on a 25-yard pass from Aaron Rodgers to Allen Lazard, but the Jets responded on the next possession with a 34-yard TD run by Breece Hall. From there, the Jets managed one more field goal while Green Bay only managed two turnovers on downs.
Indianapolis 34, Jacksonville 27
Jacksonville scored the first touchdown of the game and after a field goal by Indianapolis, JaMychal Hasty ran in a touchdown from 61 yards to make it 14-3. Indianapolis came back with 10 points unanswered before halftime, and both teams scored touchdowns on their first second half possessions to make it 21-20. After a Jacksonville turnover on downs, Indianapolis scored again on a 10-yard pass from Matt Ryan to Jelani Woods to take the 26-21 lead. Jacksonville responded with an 18-play, 84-yard drive capped off with a 4-yard pass from Trevor Lawrence to Christian Kirk, but Indianapolis responded with a drive where they converted 3 3rd downs, including one where Matt Ryan found Alec Pierce for a 32-yard TD to retake the lead with 17 seconds remaining. Jacksonville got the ball back, but the lateral play failed.
Minnesota 24, Miami 16
Skylar Thompson started this game for Miami, but hurt his thumb and was replaced by Teddy Bridgewater, who was in concussion protocol after last week. This game got started with seven straight punts (5 3-and-out) before Miami opened scoring with a field goal. On the next possession, Kirk Cousins found Irv Smith Jr. for a 1-yard TD to take the lead, and Minnesota ended up leading 10-3 at half. Similar to the first half, after a turnover on downs by Miami on the opening possession of the second half, there were six straight punts (5 3-and-out). Minnesota broke the offensive gridlock with a 47-yard pass from Cousins to Justin Jefferson and a touchdown pass from Cousins to Adam Thielen came soon after. Miami's response was a 75-yard drive capped off with a 4-yard pass from Bridgewater to Mike Gesicki. Miami's next two drives were turnovers (the first one being this Jaylen Waddle fumble) and on the drive in between, Dalvin Cook ran in a 53-yard TD. Bridgewater found Mike Gesicki for a second touchdown with 1:24 remaining, but Miami did not get the ball back after that. Tyreek Hill hauled in 12 passes for 177 yards, while Jaylen Waddle caught 6 passes for 129 yards, while Minnesota sacked Thompson and Bridgewater six times.
Cincinnati 30, New Orleans 26
Cincinnati fumbled on a punt return early in the game, giving New Orleans the ball on Cincy's 32 and setting up New Orleans' first touchdown 3 plays later on an 18-yard pass from Andy Dalton to Tre'Quan Smith. Cincinnati responded with a touchdown of their own, but New Orleans went back up when Rashid Shaheed ran in a 44-yard touchdown on a reverse. Joe Burrow ran in another touchdown for Cincinnati before halftime, but New Orleans still led 20-14. New Orleans hit field goals on their first two drives, but Burrow found Ja'Marr Chase for two touchdowns in their first three second half possessions (one from 15 yards and one from 60) to take the lead. New Orleans had one more possession after they lost the lead, but turned it over on downs.
LA Rams 24, Carolina 10
After Carolina hit a field goal on their opening drive, neither team scored until Matt Stafford found Allen Robinson at the end of a 8 minute drive with 3:34 remaining in the half. They soon gave the lead back to Carolina as Donte Jackson ran a Matt Stafford interception back 30 yards for a touchdown, and Carolina would lead 10-7 at half. From there, Carolina only managed three first downs and 86 yards from scrimmage in the second half while LA got points on three of its first four possessions, including this 19-yard jet sweep TD by Ben Skowronek.
Seattle 19, Arizona 9
In a first half defined by field goals, Seattle hit three to Arizona's one and led 9-3 at halftime (Arizona's was set up by this 42-yard run by Kyler Murray). Arizona scored the first touchdown of the game in the third quarter when Chris Banjo recovered a fumble on a punt in the end zone, but Seattle responded on the next drive when Kenneth Walker ran in a touchdown from 11 yards out. From there, Arizona only managed a turnover on downs, a punt, and an interception before the end of the game. Seattle sacked Kyler Murray six times.
Pittsburgh 20, Tampa Bay 18
Pittsburgh opened the scoring with a 6-yard TD pass from Kenny Pickett to Najee Harris, and that was the last touchdown until the final 10 minutes of the game. Tampa Bay got inside Pittsburgh's 20 twice in the first half, but only came away with two field goals from those drives and another 54-yarder by Ryan Succop. Tampa Bay trailed 10-9 at half and after trading field goals in the beginning of the second half, they trailed 13-12. Mitch Trubisky, who replaced Kenny Pickett after he left with a concussion, found Connor Heyward for a 45-yard catch-and-run and found Chase Claypool for a 6-yard touchdown later in the drive. Tampa Bay responded with a 14-play drive capped off with a 11-yard pass from Tom Brady to Leonard Fournette, but the 2-point try failed and Pittsburgh held the ball for the last 4:38.
Atlanta 28, San Francisco 14
Atlanta capped off their first drive with a 2-yard touchdown pass from Marcus Mariota to MyCole Pruitt, and added to their lead when Jaylinn Hawkins ran back a fumble for a touchdown. San Francisco came back with touchdowns of their own with both touchdowns coming on passes from Jimmy Garoppolo to Brandon Aiyuk, the latter following a 32-yard punt return by Ray Ray McLoud. Mariota ran in a 3-yard TD with 57 seconds remaining in the half, and Atlanta went into halftime up 21-14. Mariota found Kyle Pitts for a 7-yard TD on their first possession of the second half, and very little offense came after that. All three of Atlanta's drives ended in punts while San Francisco managed two punts, an interception, and a turnover on downs. Marcus Mariota only threw 14 passes in the game, but completed 13 of them.
Washington 12, Chicago 7 (played Thursday Night)
This first half included seven punts, a turnover on downs, and a Washington field goal with 46 seconds remaining in the first half kept it from being scoreless. Justin Fields opened up the scoring in the second half when he found Dante Pettis in the end zone from 40 yards out. After a Washington field goal made it a one-point game, Velus Jones Jr. muffed a punt for Chicago and Washington punched the ball in at the 6. Brian Robinson Jr. punched in the 1-yard touchdown 2 plays later for Washington. Chicago had two more possessions, the latter getting to Washington's 4 yard line, but turned it over on downs both times.
Monday Night Football
Denver @ LA Chargers (-4.5); 8:15 PM
Detroit, Tennessee, Las Vegas, and Houston had bye weeks
---
College Football
#1 Georgia 55, Vanderbilt 0
#6 Tennessee 52, #3 Alabama 49
Tennessee: led 28-20 at halftime, but trailed 49-42 with 7:49 remaining after a Tennessee fumble was returned for a touchdown; won after Alabama missed a field goal with 15 seconds left and they made it 45 yards in 2 plays to set up a 40-yard FG to win it; WR Jalin Hyatt had 6 catches for 207 yards and 5 TDs
#4 Clemson 34, Florida State 28
#5 Michigan 41, #10 Penn State 27
#20 Utah 43, #7 USC 42
#13 TCU 43, #8 Oklahoma State 40
#9 Ole Miss 48, Auburn 34
#18 Syracuse 24, #15 NC State 9
#22 Kentucky 27, #16 Mississippi State 17
Oklahoma 52, #19 Kansas 42
#22 Texas 24, Iowa State 21
#24 Illinois 26, Minnesota 14
Georgia Southern 45, #25 James Madison 38
---
MLB
NY Yankees 4, Cleveland 2
NY Yankees: Gerritt Cole: 7 IP, 6 H, 2 ER, 8 K
Series tied 2-2; Game 5 in New York, Monday @ 7:07 PM
Winner faces Houston in ALCS
NLCS
Philadelphia @ San Diego; Game 1 on Tuesday
Reach out to bdoc1997@gmail.com to get the Monday Morning Clip sent directly to your email.
---