Monday Morning Clip - NFL Week 7 & MLB Playoffs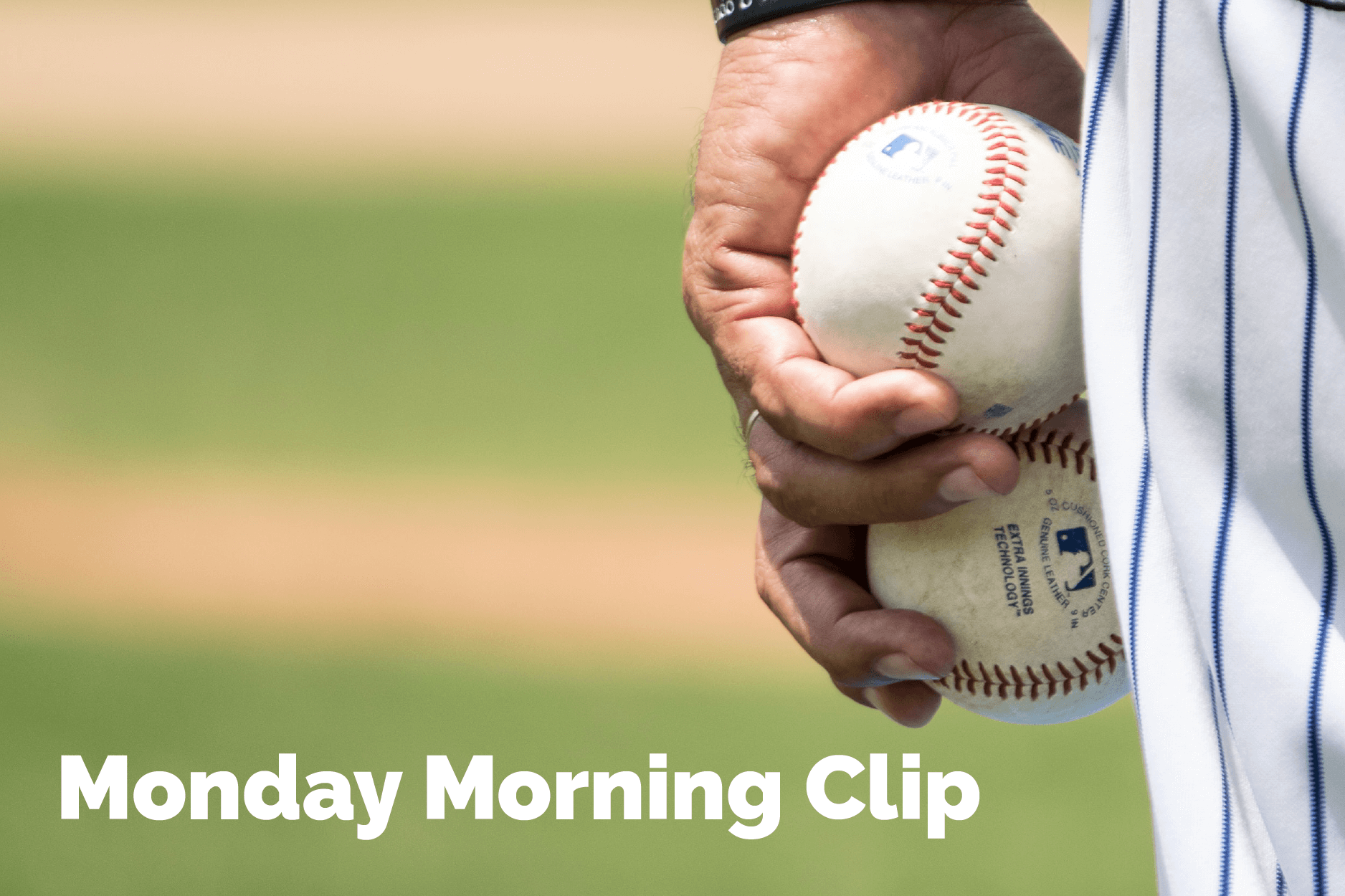 Hell froze this weekend. No, I am not referring to the Phillies making it to the World Series, although I did not see that coming either. I am referring to baseball stealing a weekend over football. It's remarkably easy for me to say that this weekend, as both my team (the Buffalo Bills) and my city's team (the Philadelphia Eagles) had bye weeks while the Phillies were at home the whole weekend in the NLCS. Despite that, I don't think I'm being myopic when I say that the Phillies were the most electric thing going in sports this weekend. It wasn't that their offense exploded-they scored five runs or fewer in four of the five games. It was the offensive output of a few players that seemed to come whenever it was needed most - Bryce Harper hit two home runs (most notably this go-ahead HR in the 8th inning of Game 5) while Rhys Hoskins and Kyle Schwarber hit three homers each in the series. A World Series title will make this season mean more, but the run they've made so far will be remembered regardless. Houston completed their sweep of the New York Yankees and after winning 106 games during the regular season, they have not lost yet during the postseason. Winning a seven-game series against Houston would be a herculean feat.
I regularly go back and forth on whether I should include baseball in the Clip throughout the year. I don't follow it as well as I follow the NFL or NBA, but I like to at least know some of what's going on. Similar to College Basketball and March Madness, the consistently dramatic ending to the season makes me wish I kept better tabs on it throughout the year.
In the NFL, both Patrick Mahomes and Joe Burrow got their offenses going to make quick work of San Francisco and Atlanta, respectively. Baltimore got the win over Cleveland despite Lamar Jackson throwing for just 120 yards. Josh Jacobs and Kenneth Walker III gave Las Vegas and Seattle the advantage in the running game in wins over Houston and the LA Chargers, respectively. Miami got the win in Tua Tagovalioa's first game back since his concussion, and Dallas got the win over Detroit in Dak Prescott's first game back. Both New York teams continued winning, and I'm still not quite sure how. Tennessee got the win over Indianapolis. Green Bay dropped their third straight game and Tampa Bay dropped their second straight, leaving both teams 3-4. Arizona got the win over New Orleans Thursday night.
In College Football, another relatively light week, but an unranked LSU team knocked off the previously undefeated Ole Miss and a one-loss Oregon handed UCLA their first loss. UCLA had been the last unbeaten team in the Pac-12.
The NBA Season started this week. It's a little early to determine where it's going, but I will say that the Sixers should be thankful that the Phillies are in the World Series, because any attention that they would be getting right now would be very angry. The Lakers are currently 0-3 and very much wish the Dodgers were a more fun distraction.
In the Premier League this weekend, Elring Haaland scored two goals for Manchester City in a 3-1 win over Brighton. He has 17 Premier League goals in 11 games so far this season. Casemiro scored a late goal for Manchester United to secure a 1-1 tie against Chelsea, and Liverpool lost 1-0 to Nottingham Forest, the last place team in the league. Arsenal tied against Southampton, dropping points for the first time since September 4th when they lost to Manchester United. Newcastle got the 2-1 win over Tottenham, and with the win, jumped to 4th in the league (although Chelsea and Manchester United, who are directly behind them, have played one fewer game).
MLB
Philadelphia 4, San Diego 3
Philadelphia wins series 4-1
Houston 6, NY Yankees 5
Houston wins series 4-0
World Series begins Friday
---
NFL
Kansas City 44, San Francisco 23
After hitting a field goal on their opening possession, San Francisco took advantage of a Patrick Mahomes interception and scored a touchdown to go up 10-0. Mecole Hardman then scored twice for Kansas City (one on an 8-yard pass from Mahomes, one on a 25-yard run) in their next two possessions to go up 14-13. San Francisco had the ball on Kansas City's 5 before halftime following a muffed punt, but Jimmy Garoppolo was picked off in the end zone. Kansas City then got the ball to San Francisco's 6, but had a touchdown nullified by a penalty and missed a field goal on the next play. Kansas City opened the second half with a 48-yard kickoff return by Isiah Pacheco and they scored three plays later on a 16-yard TD run by Clyde Edwards-Helaire. Kansas City then scored touchdowns on each of their next three possessions (including a third touchdown by Mecole Hardman). San Francisco managed 10 points in their first two second half possessions (including a 15-yard TD from Garoppolo to George Kittle), but fell off in their last three possessions, managing just a safety, a lost fumble, and an interception. Kansas City had 529 yards of offense and averaged 9.1 yards per play. In his San Francisco debut, Chirstian McCaffrey ran the ball 8 times for 38 yards while catching 2 for 24.
Cincinnati 35, Atlanta 17
Joe Burrow threw for 345 yards and three touchdowns in the first half alone (starting with this one to Tyler Boyd, followed by this one and this one, both to Ja'Marr Chase) and Cincinnati scored touchdowns on each of their first four possessions. Atlanta's offense started slow, but got going with 17 points in the second quarter, including this 75-yard TD pass from Marcus Mariota to Damiere Byrd. They still trailed Cincinnati 28-17 at halftime. Joe Burrow punched in one more touchdown on a QB sneak in the second half while Atlanta only managed four punts with just three first downs.
Baltimore 23, Cleveland 20
Cleveland got off to a hot start with a touchdown on their first possession, and Jacoby Brissett connected with Amari Cooper for a 55-yard catch to set up a field goal. Baltimore kept it close with two field goals, and eventually scored their first touchdown on a 7-yard run by Gus Edwards with 1:57 remaining in the first half to take the 13-10 lead. Brissett fumbled on Cleveland's opening second half possession, giving Baltimore the ball on Cleveland's 25 . From there, Edwards punched in his second touchdown from a yard out to Baltimore up 20-10. After trading field goals, Kareem Hunt punched in a 2-yard touchdown to cap off a 75-yard drive and make it 23-20. In an effort to extend their lead, Baltimore got the ball to Cleveland's 24, but Justice Hill fumbled, giving Cleveland the ball back. Cleveland went for a 62-yard field goal to tie it, but it was blocked and they didn't get the ball back until there were 16 seconds left. Baltimore sacked Brissett five times today.
Las Vegas 38, Houston 20
Houston made it inside Las Vegas' 40 yard line on each of their first three possessions, but only managed 10 points thanks to a missed field goal. Las Vegas' offense started slow, but Derek Carr connected with Mack Hollins for a 26-yard TD before halftime to make it 10-10. From there, Houston scored 10 points on their first two possessions in the second half, but failed to keep pace as Josh Jacobs scored three touchdowns for Las Vegas in the third quarter (from 4, 7, and 15 yards). A late pick-six by Duron Harmon only added to Las Vegas' lead. In addition to his three touchdowns, Josh Jacobs ran for 143 yards on 20 carries.
Seattle 37, LA Chargers 23
The Chargers' first three possessions ended with a turnover on downs, an interception, and a fumble, which Seattle turned into 17 points before LA scored any (one touchdown came on a 20-yard pass from Geno Smith to Marquise Goodwin, the other on a 12-yard run by Kenneth Walker III). Austin Ekeler scored a touchdown to get on the board and following a Seattle fumble that gave them possession at Seattle's 33, Justin Herbert connected with Mike Williams for a 13-yard TD to make it 17-14. Before halftime, Geno Smith found Goodwin for his second touchdown to make it 24-14. Both offenses slowed down significantly in the second half, with only two field goals for Seattle and a safety for LA until Kenneth Walker III scored his second touchdown on a 74-yard run. LA responded with a touchdown, but the onside kick failed and Seattle held the ball for the last 3:22.
Miami 16, Pittsburgh 10
In his first drive since his scary concussion, Tua found Raheem Mostert for an 8-yard touchdown. They followed that first touchdown with two field goals before Pittsburgh hit one of their own. Pittsburgh followed that first field goal with an 86-yard drive capped off with a 7-yard touchdown from Kenny Pickett to George Pickens. Miami hit one more field goal before half and led 16-10 at halftime. The second half included 10 punts with 6 being 3-and-out, a turnover on downs by Miami, and two interceptions by Pittsburgh. Both of Pittsburgh's last two drives made it inside Miami's 25, but they both ended with interceptions, sealing the win for Miami.
NY Jets 16, Denver 9
After a slow start for both offenses, the Jets struck first with a 62-yard run by Breece Hall. Denver struck back with a 75-yard drive capped off with a 2-yard run by Latavius Murray (but missed the extra point). They traded field goals before the end of the half, and the Jets led 10-9 at halftime. The second half started with six punts in a row before Lamarcus Joyner picked off Brett Rypien, who started in place of Russell Wilson (hamstring). That led to a field goal, and they followed it up with another field goal. Denver managed only another punt and two turnovers on downs on drives that made it inside New York territory, but ultimately yielded no points.
NY Giants 23, Jacksonville 17
The Giants got started with a 32-yard TD pass from Daniel Jones to Darius Slayton. Jacksonville responded with a 70-yard drive capped off with a 7-yard TD run by Travis Etienne and a 2-point conversion also by Etienne. After trading field goals, Jacksonville made it to the Giants' 17 yard line before Etienne fumbled. The Giants hit one more field goal before halftime to make it 13-11. On Jacksonville's opening possession of the second half, a 49-yard run by Etienne set up a touchdown QB sneak by Trevor Lawrence, which gave them the 17-13 lead. After a turnover on downs and a punt by both teams, the Giants ran down Jacksonville and finished a 79-yard drive with a 1-yard run by Daniel Jones. After a field goal put them up 23-17, Jacksonville needed a touchdown on their final drive, but ran out of time on the Giants' 17 yard line. Saquon Barkley ran for 110 yards and Daniel Jones ran for 107 yards for the game.
Dallas 24, Detroit 6
In a slow first half offensively, Detroit hit two field goals compared to one for Dallas. Dallas made it down to Detroit's 20 just before halftime, but Noah Brown fumbled, leaving Dallas down 6-3 at halftime. In the second half, Jared Goff threw two interceptions, lost two fumbles, and Jamaal Williams lost a third for Detroit. Each of Dallas' three second half touchdowns came following one of those turnovers, with one drive starting on Detroit's 24. Detroit outgained Dallas 330-312 for the game, but turnovers did them in.
Tennessee 19, Indianapolis 10
After Tennessee opened scoring with a field goal, Andrew Adams ran back a Matt Ryan interception for a touchdown to put them up 10-0. Another field goal put them up 13-0 at half. Indianapolis finally got on the board when Matt Ryan found Parris Campbell for a 4-yard touchdown, but Tennessee responded with another field goal to go up 16-7. A Ryan Tannehill fumble set up an Indianapolis field goal, but Tennessee responded with their fourth field goal to maintain their lead. Indianapolis got another shot to score, but that drive ended with another fumble, that one by Michael Pittman Jr.
Washington 23, Green Bay 21
Green Bay scored the first touchdown of the game and extended their lead to 14-3 when De'Vondre Campbell ran back a Taylor Heinicke (who started for Carson Wentz who has a finger injury) interception 63 yards for a touchdown. Washington responded with an 83-yard drive capped off with a 9-yard TD pass from Heinicke to Antonio Gibson, and a missed field goal later in the half prevented them from making it closer than 14-10 at halftime. Washington opened the second half with Heinicke connecting with Terry McLaurin for a 37-yard TD. After a pair of field goals put Washington up 23-14, Green Bay finally responded with a second TD pass to Aaron Jones. Green Bay didn't get the ball back until there was 23 seconds left.
Carolina 21, Tampa Bay 3
This game got started with seven straight punts until PJ Walker found DJ Moore for a 29-yard touchdown with 29 seconds left in the half. The second half got started with five punts and a Tampa Bay turnover on downs mixed in until D'Onta Foreman ran it 60 yards and Chuba Hubbard ran it 17 yards for a touchdown the next play. Tampa Bay finally managed a field goal, but Carolina responded with a 29-yard TD pass from Walker to Tommy Tremble. Tampa Bay only managed another turnover on downs from there. They managed to get inside the 30 three times in the second half, but only managed three points thanks to turnovers on downs.
Arizona 42, New Orleans 34 (played Thursday Night)
New Orleans scored a pair of touchdowns while Arizona only managed a pair of field goals (one on a 53-yard TD pass from Andy Dalton to Rashid Shaheed and another on a 3-yard pass from Dalton to Taysom Hill). Arizona scored a touchdown to tie it up, then built a lead on two pick-sixes on back-to-back possessions by Isaiah Simmons and Marco Wilson and went into halftime up 28-14. Arizona continued building their lead with a 5-yard TD pass from Kyler Murray to Greg Dortch late in the third quarter, but New Orleans soon rallied with touchdowns for Juwan Johsnon on back-to-back drives in the fourth. They hit a field goal with 43 seconds remaining to make it an 8-point game, but they failed to recover the onside kick.
Monday Night Football
Chicago @ New England (-7.5); 8:15 PM
Buffalo, Philadelphia, Minnesota, and the LA Rams had bye weeks
---
College Football
#2 Ohio State 54, Iowa 10
#3 Tennessee 65, UT Martin 24
#5 Clemson 27, #14 Syracuse 21
#6 Alabama 30, #24 Mississippi State 6
LSU 45, #7 Ole Miss 20
#8 TCU 38, #17 Kansas State 28
#10 Oregon 45, #9 UCLA 30
#11 Oklahoma State 41, #20 Texas 34
#13 Wake Forest 43, Boston College 15
#16 Penn State 45, Minnesota 17
---
NBA
Portland 106, LA Lakers 104
Portland: Damian Lillard: 41 pts (15-25 FG, 6-13 3P)
LA Lakers: LeBron James: 31 pts, 8 ast, 8 reb
Charlotte 126, Atlanta 109
Charlotte: Kelly Oubre: 24 pts, 10 reb, Nick Richards: 20 pts (9-9 FG), 11 reb
Atlanta: Trae Young: 28 pts (9-25 FG), 9 ast
Cleveland 117, Washington 107 (OT)
Cleveland: Donovan Mitchell: 37 pts (5-12 3P), 6 TO
Washington: Bradley Beal: 27 pts (11-16 FG), 6 TO
Utah 122, New Orleans 121 (OT)
Utah: Lauri Markkanen: 31 pts, 12 reb
New Orleans: CJ McCollum: 28 pts, 12 ast; Zion Williamson: 25 pts, 6 reb
Minnesota 116, Oklahoma City 106
Minnesota: Anthony Edwards: 30 pts, 11 reb
Golden State 130, Sacramento 125
Golden State: Steph Curry: 33 pts (7-12 3P); Andrew Wiggins: 24 pts
Sacramento: De'Aaron Fox: 26 pts, 10 ast
Phoenix 112, LA Clippers 95
Phoenix: Devin Booker: 35 pts (5-9 3P)
---