Monday Morning Clip - NFL Week 5 & More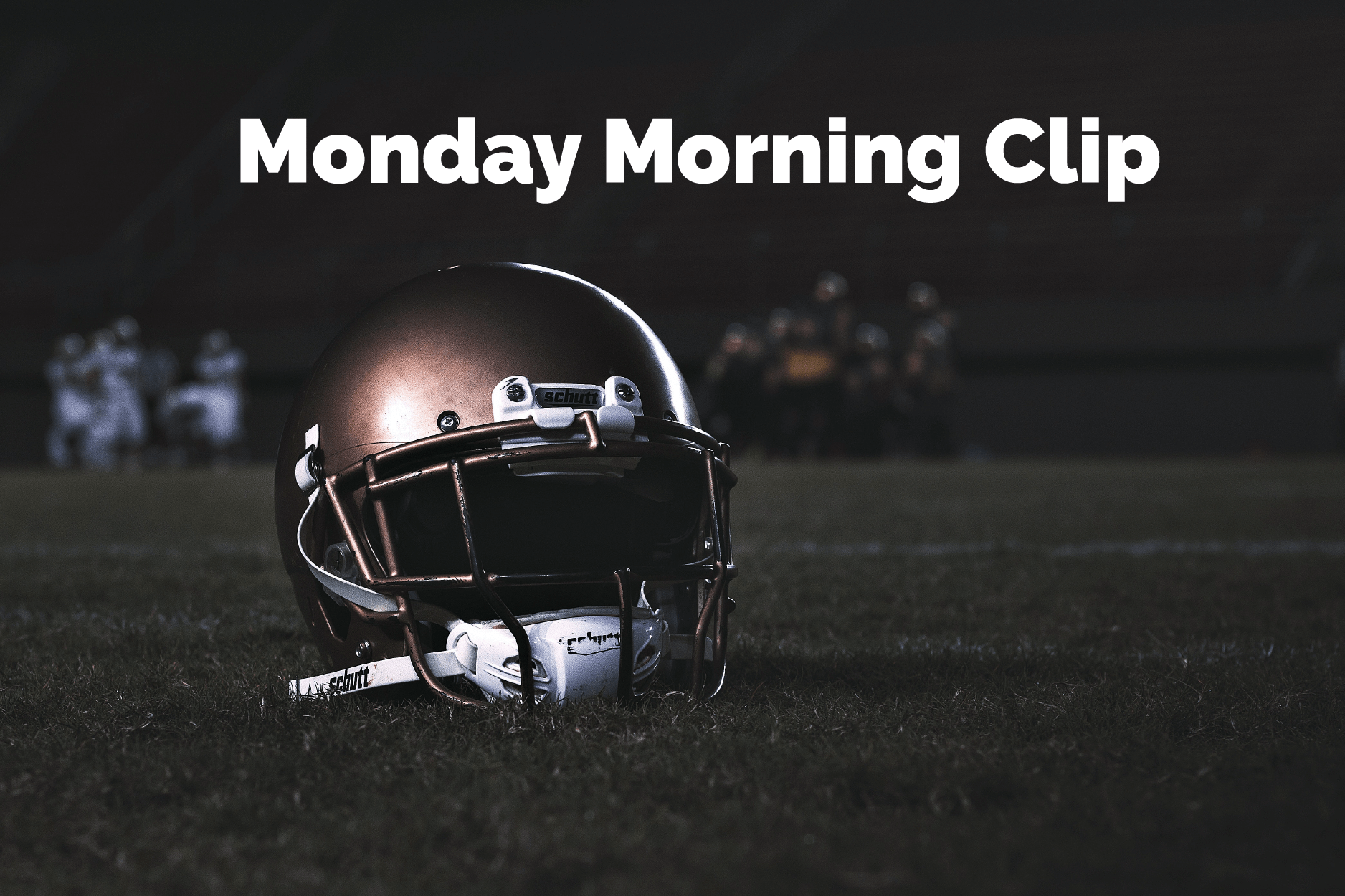 The Eagles went to 5-0 with a win over Arizona, and Dallas won its fourth straight with Cooper Rush at QB over the LA Rams. The New York Giants, whose only loss came at the hands of the Cooper Rush-led Cowboys, improved to 4-1 with the win over Green Bay in London. In a twist that nobody saw coming, those three teams are making the NFC East the most dangerous division in the lead. For Washington, Carson Wentz threw an interception on the goal line on the last play of the game against Tennessee, ensuring the loss and that some things still go according to plan in the NFC East. Beyond the NFC East, the LA Chargers topped Cleveland in a roller coaster game. On Sunday night, Baltimore's 4 field goals carried them over Cincinnati. Buffalo's offense flattened Pittsburgh in the first half and cruised to a win. San Francisco got the win over Carolina, who lost Baker Mayfield to an ankle injury and the Jets got the win over Miami, who lost Teddy Bridgewater to the concussion protocol (another concussed QB). Both New York teams are over .500 - something seems wrong there. Tampa Bay got the win over Atlanta, and Minnesota improved to 4-1 with the win over Chicago. Four total touchdowns by Taysom Hill drove New Orleans to the win over Seattle. On the opposite end of the NFC East, the AFC South played football like the ball had no air, with Houston winning a low scorer over Jacksonville while Indianapolis pulled out the win over Denver on Thursday night.
In College Football, Alabama got the win over Texas A&M despite not having Bryce Young under center (throwing shoulder). Beyond that, the highest ranked team to lose was #11 Utah, who lost to #18 UCLA, who is still undefeated and moved up to 11 in this week's rankings. Beyond the ranked teams, one name to keep in mind is Israel Abanikanda, Pitt's running back who ran the ball 36 times for 320 yards and 6 touchdowns on Saturday against Virginia Tech (Yes, that is an actual stat line - although I switched to water when I initially saw it on Saturday). He's racked up 830 yards and 12 touchdowns so far this season, so he could really start to generate buzz if he keeps it going.
In the MLB this weekend, we had the revamped Wild Card Series. How it worked: in both conferences, the division winner with the worst record (always seeded #3) and the three wild card teams (seeded 4, 5, 6 in record order) played a 3-game series at the higher seed's stadium. Three of the four series were two-game sweeps. The Cleveland Guardians topped Tampa Bay in 15 innings, Seattle came back from down 8-1 to top Toronto 10-9, and Philadelphia shut out St. Louis to sweep them on the road. In the only series to go three games, Joe Musgrove threw 7 shutout innings for San Diego to knock out the Mets.
Across the pond (beyond the NFL game played there), Bukayo Saka scored two goals for Arsenal to top Liverpool 3-2 and stay on top of the league. Manchester City remains one point behind them after a 4-0 win over Southampton. Through nine games, their goal differential is +24. A single Harry Kane goal was enough to put Tottenham over Brighton. Christian Pulisic scored his first premier league goal this season for Chelsea in a win over Wolverhampton. Both Anthony and Cristiano Ronaldo scored for Manchester United in the win over Everton.
---
NFL
Baltimore 19, Cincinnati 17
After a relatively slow start to scoring, Lamar Jackson found Mark Andrews for an 11-yard touchdown to put them up 10-0. Cincinnati made their way back with 10 points in their last two possessions (including a 19-yard TD pass from Joe Burrow to Hayden Hurst) and the first half ended tied at 10. A Joe Burrow interception set up Baltimore's first field goal (from 58 yards), and following a Cincinnati turnover on downs on Baltimore's 2 yard line, they hit another field goal to go up 16-10. Joe Burrow finally punched in a QB sneak at the end of a 13-play, 75-yard drive to go up 17-16 with 1:58 remaining, but Baltimore made it to Cincinnati's 25 before Justin Tucker hit the 43-yard game-winner as time expired.
Philadelphia 20, Arizona 17
Philadelphia scored two touchdowns (both on 1-yard rushing touchdowns by Jalen Hurts) in their first three possessions to go up 14-0, Arizona managed 10 points in their last two possessions to cut their halftime deficit to 14-10. After a field goal in their opening second half possession put Philadelphia up 17-10, Arizona capped off a 12-play, 90-yard drive with an 11-yard run by Eno Benjamin to tie it at 17. Philadelphia responded on the next possession with Cameron Dicker's second field goal of the day with 1:45 remaining to take the 3-point lead. Arizona made it to Philadelphia's 25 yard line with 22 seconds remaining, but Matt Ammendola sent the ensuing field goal wide right to ensure the Eagles remained undefeated.
NY Giants 27, Green Bay 22 (played in Tottenham Hotspur Stadium, London)
Green Bay scored points on four of their five possessions in the first half, while the Giants recovered from a slow start and scored 10 points in their final two first half possessions (including a touchdown on this end-around by Daniel Bellinger) to cut Green Bay's lead to 20-10. The Giants kept the scoring going in the second half, scoring 17 points in their first three possessions to take the 27-20 lead (with the last touchdown coming on a Saquon Barkley direct snap). Green Bay marched down to the Giants' 6 yard line, but turned the ball over on downs with 1:06 remaining. The Giants snapped the ball out of the end zone on the punt, enabling them to punt the ball further into Green Bay territory, sealing the win even further.
Dallas 22, LA Rams 10
On the Rams' first possession, Dorance Armstrong Jr. stripped Matt Stafford and Demarcus Lawrence ran it back for a touchdown. On their next possession, they had a punt blocked and recovered by Dorance Armstrong Jr. Despite that, LA took the 10-9 lead in the second quarter when Cooper Kupp ran in a 75-yard TD. Not to be outdone, Dallas retook the lead the next possession when Tony Pollard ran in a 57-yard TD. The LA Rams had just 126 yards of offense for the remainder of the game, and the closest they came to scoring was a missed 51-yard field goal and another Matt Stafford fumble on Dallas' 37.
LA Chargers 30, Cleveland 28
Cleveland opened the scoring with a 41-yard TD run by Nick Chubb on their opening possession, and Jacoby Brissett found Amari Cooper from 11 yards out to put Cleveland up 14-0 late in the first. With big plays including a 71-yard run by Austin Ekeler and a 38-yard pass from Justin Herbert to Mike Williams, LA quickly scored on three straight possessions and led 17-14 with 5:51 remaining in the half. LA didn't hold that lead for long, as Nick Chubb punched in his second touchdown the drive after LA took the lead. Cleveland went into half up 21-17. LA retook the lead again when Austin Ekeler scored his second TD from 22 yards out, but Cleveland swung back ahead when Kareem Hunt punched in a touchdown to go up 28-27, only for LA to swing ahead again with a field goal. Cleveland made it to LA's 9 yard line only for Jacoby Brissett to be picked off in the end zone with 2:55 remaining. An LA turnover on downs gave Cleveland the ball back, but Cade York missed the potential-game winner from 54 yards out. LA ran for 238 yards in this one (Ekeler with 173), and Cleveland ran for 213 (Chubb with 134).
Buffalo 38, Pittsburgh 3
Buffalo's first possession ended with a 98-yard TD from Josh Allen to Gabriel Davis, and that set the tone for much of the first half. After 3 possessions without touchdowns, Allen and Davis connected again, this time for a 62-yard TD. Allen also found Stefon Diggs and Khalil Shakir for touchdowns and Buffalo led 31-3 at halftime. Josh Allen had 348 first half passing yards. Pittsburgh managed four drives inside Buffalo's 30 during the second half, but only managed three turnovers on downs and a missed field goal.
San Francisco 37, Carolina 15
San Francisco scored on their opening possession with a 9-yard pass from Jimmy Garoppolo to Tevin Coleman and after a long touchdown drought, Emmanuel Moseley ran back a Baker Mayfield interception for a touchdown to go up 17-3 before half. Carolina started the second half with its first touchdown when Christian McCaffrey ran it in from 19 yards out, but San Francisco responded with two touchdowns in their first two possessions of the second half, leaving them with a 30-12 lead. Carolina only managed turnovers on downs in their last two possessions.
Tampa Bay 21, Atlanta 15
After a scoreless first quarter, Leonard Fournette punched in a 1-yard TD to cap off a 13-play, 88-yard drive (the drive also included this catch by Mike Evans). Two field goals before halftime put them up 13-0, and another 1-yard touchdown by Fournette (this time on a pass from Brady) put them up 21-0 in the middle of the third. Atlanta eventually scored two touchdowns in the fourth quarter (the first one on this run by Avery Williams), but Tampa Bay kept possession for the last 4:38 to ensure their win.
NY Jets 40, Miami 17
Scoring got started when an intentional grounding in the end zone call resulted in a safety. Soon after, Zach Wilson connected with Breece Hall for 79 yards, and Michael Carter punched it in from a yard out on the next play. Miami, now playing Skylar Thompson in place of Teddy Bridgewater, got on the scoreboard when Raheem Mostert ran one in from 11 yards out. Following a Miami interception, Zach Wilson ran one in from 5 yards out, and Miami responded with a 75-yard drive capped off with a 1-yard direct snap by Durham Smythe. The Jets led 19-14 at halftime, and Miami hit a field goal to make it 19-17 in their first second half possession, but it went downhill from there for Miami. A missed field goal gave the Jets a relatively short field, and they scored a touchdown that drive. A fumble that the Jets ran back to the Miami 5 yard line resulted in another touchdown. Lastly, a Miami turnover on downs gave the Jets the ball on the 30, and they scored a third touchdown on that drive.
Minnesota 29, Chicago 22
Minnesota scored touchdowns on each of their first three possessions and led 21-3 with 7:20 remaining in the half. Justin Jefferson had 145 receiving yards at that point. A 39-yard pass from Justin Fields to Darnell Mooney set Chicago up for a touchdown before half, and at that point, they trailed 21-10. In Chicago's first possession of the second half, Justin Fields found Velus Jones Jr. for a 9-yard touchdown. Two more field goals, combined with two missed field goals and an interception by Minnesota, put Chicago ahead 22-21. Minnesota woke up soon after they lost the lead and led a 17-play, 75-yard drive capped off with a 1-yard sneak by Kirk Cousins with 2:26 remaining. Chicago made it to their own 46, but Ihmir Smith-Marsette lost a fumble, which guaranteed the win for Minnesota.
Tennessee 21, Washington 17
Tennessee scored first when Ryan Tannehill found Dontrell Hilliard for a 13-yard touchdown. Washington initially responded with a field goal, but on their next possession, Carson Wentz found Dynami Brown for a 75-yard TD. Derrick Henry punched in a touchdown from 1 yard out to cap off a 15-play, 81-yard drive before halftime, with Tennessee ahead 14-10. Wentz found Dynami Brown again for a 30-yard TD to take the lead, but Tennessee responded on the next possession with a 61-yard pass from Tannehill to Nick Westbrook-Ikhine, which set up another 1-yard touchdown from Derrick Henry. After 4 straight punts, Washington finally broke the offensive deadlock and marched down to the Tennessee 2 yard line, but Wentz was intercepted by David Long Jr. with :00 left on the clock. Also from this game: Brian Robinson, Jr., who was shot 6 weeks ago, made his debut today for Washington, and walked out to 'Many Men' by 50 cent.
New England 29, Detroit 0
To start scoring, New England hit two field goals following turnovers by Detroit on their first two drives (turnover on downs and an interception) before Matt Judon stripped Jared Goff and Kyle Dugger ran it back 59 yards for the game's first touchdown. New England both ended the first half and started the second half with field goals and after that, they led 19-0. Their only offensive touchdown of the game came late in the third when Bailey Zappe found Jakobi Meyers for a 24-yard TD. Detroit made it inside New England's 40 on each of their last four second half drives, but they turned it over on downs on all four.
New Orleans 39, Seattle 32
Seattle scored the game's first touchdown on a 50-yard pass and run from Geno Smith to DK Metcalf. New Orleans responded with an 8-yard run by Taysom Hill, and later took the lead when Taysom Hill ran in another from 9 yards out 2 plays after a Seattle turnover on downs. After a field goal and a fumble by New Orleans, Seattle retook the lead with a 35-yard TD from Smith to Tyler Lockett. Seattle's 19-17 halftime lead didn't last long as Seattle lost a fumble on their own 31 and soon after, Andy Dalton found Chris Olave for a 16-yard TD. New Orleans made it 31-19 when a 54-yard catch by Alvin Kamara set up a 22-yard pass from Taysom Hill to Adam Trautman, but two straight touchdowns (on a 40-yarder from Smith to Lockett and a 69-yard run by Kenneth Walker) by Seattle gave them a 32-31 lead. New Orleans responded with a big play of their own, coming in Taysom Hill's third running touchdown from 60 yards out. Seattle failed to make anything of their next drive and New Orleans held possession for the last 3:21.
Houston 13, Jacksonville 6
After the game got started with five straight punts, the two teams traded field goals and the first half ended 6-6. Houston finally mustered a touchdown drive in the fourth quarter that finished with a 1-yard run by Dameon Pierce. Four of Jacksonville's five drives made it at least 30 yards, but they only came out to two interceptions (with one coming on Houston's 7 yard line), two turnovers on downs, and a punt. Jacksonville outgained Houston 422-248 for the game.
Indianapolis 12, Denver 9 (played Thursday Night)
In a first half where Indianapolis punted on each of its first four possessions (3 3-and-outs), Denver managed two field goals while Indy only managed one and led 6-3 at halftime. Indianapolis tied it up at 6 on their first possession in the second half, but an interception on their next drive set up a Denver field goal that allowed them to take the lead. Interceptions hurt both teams, as the Colts' game-tying field goal with 5 seconds remaining came after Russell Wilson's second pick. In OT, Indy hit a field goal on the opening possession and Denver made it down to Indianapolis' 5 yard line, but turned the ball over on downs to end OT.
Monday Night Football
Las Vegas @ Kansas City (-7); 8:15 PM
---
College Football
#1 Alabama 24, Texas A&M 20
#2 Georgia 42, Auburn 10
#3 Ohio State 49, Michigan State 20
#4 Michigan 31, Indiana 10
#5 Clemson 31, Boston College 3
#6 USC 30, Washington 14
#7 Oklahoma State 41, Texas Tech 31
#8 Tennessee 40, #25 LSU 13
#9 Ole Miss 52, Vanderbilt 28
#18 UCLA 42, #11 Utah 32
#12 Oregon 49, Arizona 22
South Carolina 24, #13 Kentucky 14
#14 NC State 19, Florida State 17
#15 Wake Forest 45, Army 10
Notre Dame 28, #16 BYU 20
#17 TCU 38, #19 Kansas 31
#20 Kansas State 10, Iowa State 9
---
MLB
San Diego 6, NY Mets 0
San Diego wins series 2-1
Division Series Start Tuesday
Cleveland @ NY Yankees
Seattle @ Houston
San Diego @ LA Dodgers
Philadelphia @ Atlanta
---