Monday Morning Clip - NFL Week 2 Breakdown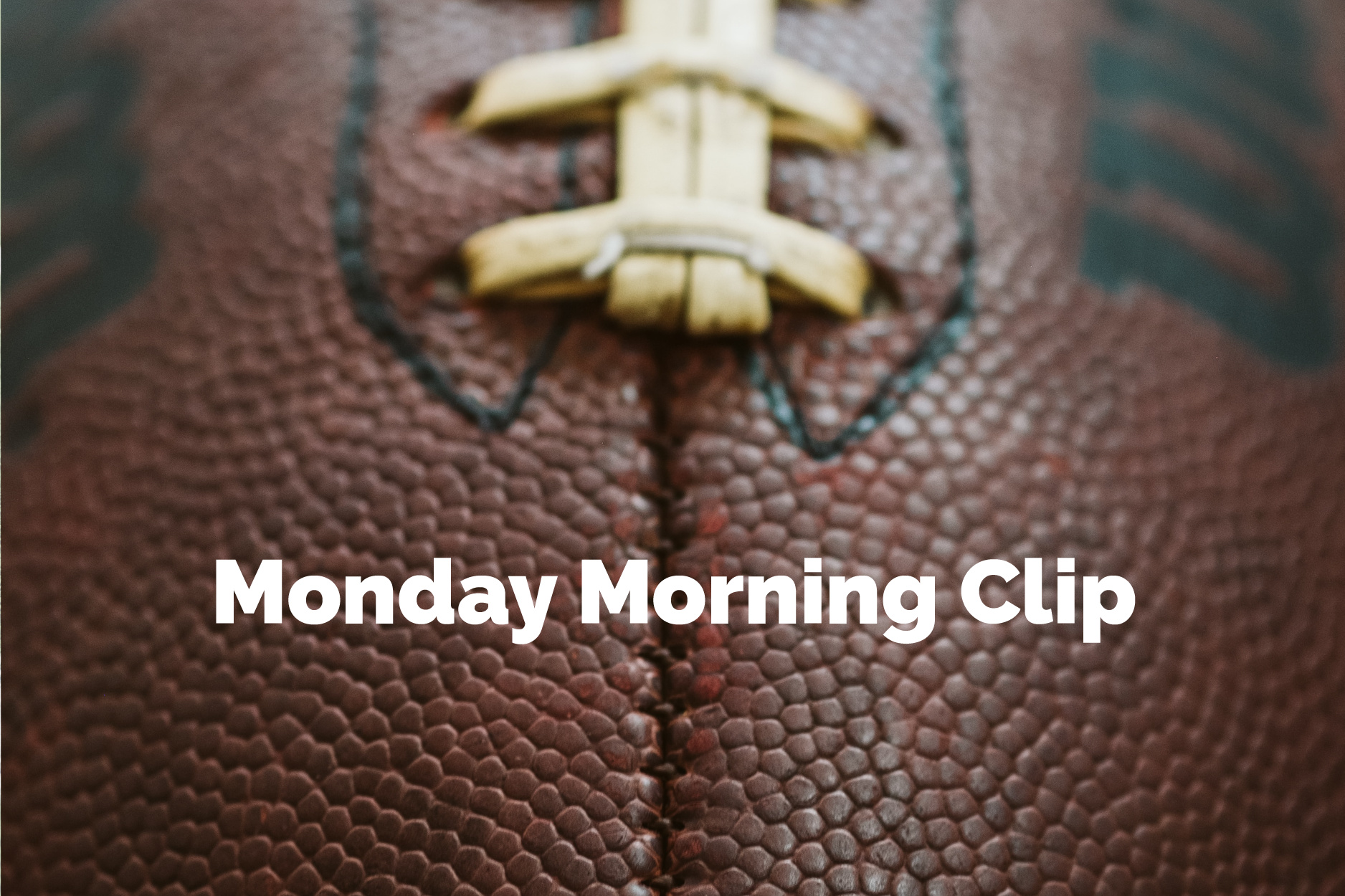 Considering how much time I spend writing about sports and talking about them beyond that, I hope I usually have a good sense of what's going on with most sports. That being said, whether it's a name I never heard before having 25 home runs this year in baseball, or the Cincinnati Bengals starting off their season 0-2, or Tua Tagovailoa throwing for 329 yards in a half, I am forced to acknowledge that both my knowledge and my predictions are far from perfect. I pick the winners every week (I don't bet any money but I like to see how I'd do), and so far I have won exactly 50% of my games. This season is still young and I really don't know what it's going to look like yet.
A massive comeback by Tua Tagovailoa that included four fourth quarter touchdown passes has Miami at 2-0 while handing Baltimore its first loss. The Rams held off a late comeback by Atlanta to get their first win. Jimmy Garoppolo took over for an injured Trey Lance in a win for San Francisco. Arizona pulled off a major comeback to send Las Vegas to 0-2. Dallas got to Burrow a lot and got just enough out of Cooper Rush to get the win. The Tampa Bay defense had a day against Jameis Winston and New Orleans to go to 2-0. A big day by Aaron Jones for Green Bay and an anemic Chicago offense put them both to 1-1. A strong day by the Detroit offense put them ahead of Washington. New England topped Pittsburgh to put them both at 1-1. Denver only needed one touchdown to beat Houston. Joe Flacco pulled off an elite two-minute comeback over Cleveland, and the Giants got the win over Carolina for a rare 2-0 day for New York. Jacksonville shut out Indianapolis, and Mahomes topped Justin Herbert on Thursday Night.
NFL
Miami 42, Baltimore 38
Baltimore started the game with a 103-yard kickoff return TD by Devin Duvernay. Following a touchdown by Miami early in the second quarter, Baltimore had another big play when Lamar Jackson found Rashad Batemean for a 75-yard TD. Two more touchdowns on the next two drives, combined with two first half interceptions for Tua Tagovailoa (one on this grab by Marcus Williams) had Baltimore up 28-7 at half and later 35-14 after a 79-yard TD run from Lamar Jackson. From there, Miami punted just once more and scored touchdowns on the other five second half drives. Miami tied the game at 35 on a 60-yard TD pass from Tua to Tyreek Hill and after a Baltimore field goal, a 7-yard TD pass from Tua to Jaylen Waddle gave Miami their first lead of the game with 14 seconds remaining. Tagovailoa threw for 329 yards in the second half and five touchdown passes, with four of them coming in the fourth quarter. Tyreek Hill and Jaylen Waddle both had 11 catches and 2 touchdowns (190 yards for Hill, 177 for Waddle).
LA Rams 31, Atlanta 27
LA scored touchdowns on four of their first five possessions and could have scored on all five if Stafford hadn't been picked off by Casey Hayward in the end zone. They built up to a 28-3 lead early in the third quarter, but another Stafford interception gave Atlanta the ball at the Rams' 20, which set up an easy touchdown. Atlanta scored another touchdown on their next possession, making it 21-17. On the possession after that, Atlanta blocked LA's punt and returned that for a touchdown. A Cooper Kupp fumble once again gave Atlanta the ball in LA territory, but Mariota was intercepted in the end zone by Jalen Ramsey with 1:18 remaining, sealing the win for LA. Cooper Kupp continues to make his fantasy owners happy, hauling in 11 passes for 108 yards and two touchdowns.
San Francisco 27, Seattle 7
Trey Lance broke his ankle late in the first quarter and is out for the season. Already up 6-0 with two field goals on the first two drives, Jimmy Garoppolo found Ross Dwelley for a 38-yard TD in his first full drive. Seattle muffed a punt, giving San Francisco the ball at Seattle's 22, and they scored from there, giving them a 20-0 lead at the half. Seattle would get them back on special teams early in the second half, blocking a Robbie Gould FG and returning it for a TD. However, that was their only touchdown and they managed just 63 yards of offense in the second half. San Francisco outgained Seattle 189-36 in the rushing game.
Arizona 29, Las Vegas 23 (OT)
Las Vegas got points on all four of their first half possessions while Arizona managed just two punts and an interception, giving Las Vegas a 20-0 lead at half. Kyler Murray had just 53 yards passing in the first half. Arizona finally got on the board in the third with an 11-play, 79-yard drive capped off with a 5-yard TD pass from Kyler Murray to Greg Dortch. They made it to Las Vegas' 11 their next possession, but turned the ball over on downs. They did score on their next possession, cutting Las Vegas' lead to 23-15. After another punt by Las Vegas, Arizona led another drive down field that included three fourth down conversions, with the last one being a 3-yard TD run by Kyler Murray as time expired. They got the 2-point conversion despite a penalty, sending the game to OT. Arizona got the ball first, but turned it over on downs. Las Vegas made it to Arizona's 39, but Arizona picked up a Hunter Renfroe fumble and ran it back for the winning touchdown. Las Vegas had just four first downs during the second half.
Dallas 20, Cincinnati 17
Even with Dak Prescott out, Dallas got off to a hot start with touchdowns on both of their first two possessions. On the other end, Joe Burrow was sacked four times in the first half (6 for the game) and Dallas led 17-3 at halftime. A pair of Cincinnati field goals made it 17-9 late in the third quarter while Dallas' best third quarter possession ended with a lost fumble. After a 19-play, 83-yard drive that took 8:54, Cincinnati finally got its first touchdown with a 5-yard TD pass from Burrow to Tee Higgins. They converted the 2-point attempt to tie the game. After punts by both sides, Cooper Rush got Dallas to Cincinnati's 32, allowing Brett Maher to hit the 50-yard game-winner.
Tampa Bay 20, New Orleans 10
New Orleans hit a field goal on their first drive and that was the only scoring either team did in the first half. Tampa Bay made it inside New Orleans' 30 twice, but a fumbled snap and a turnover on downs meant that they came away from both possessions scoreless. Tampa Bay managed to tie it up early in the third quarter and scored the game's first touchdown a few possessions later on a 28-yard pass from Brady to Breshad Perriman. On the other end, New Orleans turned the ball over on four straight possessions, the last of them being a pick-six that put Tampa Bay up 20-3. New Orleans managed a touchdown on their next possession, but only 3:02 remained at that point. In addition to throwing three interceptions, Jameis Winston was sacked six times.
Green Bay 27, Chicago 10
Green Bay scored on four of their five first half possessions (this being the first one), with three of those scores being touchdowns. After scoring on their first drive, Chicago's offense came to a complete halt for the rest of the half with three three-and-outs. In the second half, both teams had a long drive where they came away scoreless, and neither team managed more than a field goal. Both teams were strong running the ball (203 yards for Green Bay and 180 for Chicago), but only Green Bay was effective passing, as Aaron Rodgers had 234 yards compared to just 70 for Justin Fields. Aaron Jones had 132 yards rushing, 38 yards receiving, and two total touchdowns for Green Bay. Green Bay ultimately had 26 first downs compared to 11 for Chicago.
Detroit 36, Washington 27
After scoring just 3 points in their first 3 possessions, the Detroit defense forced a safety and Jared Goff found Amon-Ra St. Brown for a 14-yard TD. After another field goal and touchdown, Detroit led 22-0 at halftime. Washington then scored touchdowns on four of their first five possessions in the second half. Detroit, while not maintaining their first half lead, scored two touchdowns of their own (including this one) and never led by less than 8 points. 2nd overall pick Aidan Hutchinson had 3 sacks today.
New England 17, Pittsburgh 14
The two teams had similar first halves offensively: both only came away with field goals on long drives and both quarterbacks threw one interception. However, Mac Jones connected with Nelson Agholor on a 44-yard TD with 22 seconds remaining, giving New England the 10-3 halftime lead. New England scored again when they got a short field following a muffed punt, giving them a 17-6 lead. Pittsburgh scored and converted the 2-point attempt to make it 17-14, but only managed two three-and-outs while New England kept possession for the final 6:33 of the game.
Denver 16, Houston 9
Both teams managed only two field goals each for the first half. It wasn't until the fourth quarter when Russell Wilson found Eric Saubert for a 22-yard TD to take the 13-9 lead. Houston got three more possessions after that, but the closest they got to points was a turnover on downs on Denver's 37. Denver outgained Houston 350-234 for the game (149-80 rushing). Neither team was effective on 3rd down, with Houston converting 2 of 13 while Denver converted 3 of 12. Russell Wilson completed just 14 of his 31 pass attempts.
NY Jets 31, Cleveland 30
Joe Flacco found Breece Hall for his second TD pass of the game to tie it up at 14 just before halftime. The Jets' offense almost completely stopped for most of the second half, managing two three-and-outs, an additional punt, and just one field goal in their first four possessions. Cleveland kept their offense going and with 1:55 remaining in the game, they led 30-17. Joe Flacco found a wide open Corey Davis for a 76-yard TD on the following drive and after converting the onside kick, they had the ball with 1:22 remaining. With 22 seconds remaining, Flacco found Garrett Wilson for his fourth TD pass of the day and the game-winner.
NY Giants 19, Carolina 16
Both teams scored their only touchdown on back-to-back possessions early in the third quarter and at that point, it was tied 13-13. After a slew of punts by both teams, the Giants managed two field goals in the fourth quarter while Carolina only managed one. Carolina converted just two of its twelve third down attempts, and Baker Mayfield completed 14 of his 29 passes.
Jacksonville 24, Indianapolis 0
Indianapolis had three three-and-outs in the first half in a first half where the only non-punting drive ended in an interception. Jacksonville's offense was not nearly as weak and led 17-0 at halftime (their second TD coming on this run). Jacksonville scored again on a long drive late in the third and from there, neither team scored. Matt Ryan threw two interceptions on Indianapolis' last two drives and on the two drives before that, they turned the ball over on downs inside Jacksonville's 20. Indianapolis converted just two of their ten third down attempts, and Matt Ryan was also sacked five times.
Kansas City 27, LA Chargers 24 (played Thursday Night)
LA got off to a 10-0 start, but Kansas City soon got on the board with a 9-yard TD pass from Mahomes to McKinnon. Herbert found Mike Williams to get LA a TD in their first second half possession while Mahomes found Justin Watson from 41 yards out to do the same in theirs. After a field goal tied it up, Kansas City took the lead on a 99-yard pick-six by Jaylen Watson. LA had two opportunities to tie it up, but didn't score again until their final possession when they were down 10.
Monday Night Football
Tennessee @ Buffalo (-10); 7:15 PM
Minnesota @ Philadelphia (-2.5); 8:30 PM
---
College Football
#1 Georgia 48, South Carolina 7
#2 Alabama 63, UL-Monroe 7
#3 Ohio State 77, Toledo 21
#4 Michigan 59, Connecticut 0
#5 Clemson 48, Louisiana Tech 20
#6 Oklahoma 49, Nebraska 14
#7 USC 45, Fresno 17
#8 Oklahoma State 63, Arkansas Pine-Bluff 7
#9 Kentucky 31, Youngstown State 0
#10 Arkansas 38, Missouri State 27
Washington 39, #11 Michigan State 28
#25 Oregon 41, #12 BYU 20
#24 Texas A&M 17, #13 Miami 9
#14 Utah 35, San Diego State 7
#15 Tennessee 63, Akron 6
#16 NC State 27, Texas Tech 14
#17 Baylor 42, Texas State 7
#18 Florida 31, South Florida 28
#19 Wake Forest 37, Liberty 36
#20 Ole Miss 42, Georgia Tech 0
---
MLB
NY Yankees 12, Milwaukee 8
NY Yankees: Aaron Judge: 4-5, 2 HR (59), 4 RBI; Anthony Rizzo: 3-6, HR (31), RBI
Milwaukee: Kolten Wong: 3-4, 2B, HR (12)
Tampa Bay 5, Texas 3
Baltimore 5, Toronto 4
Houston 11, Oakland 2
Houston: Yordan Alvarez: 2-5, 2 2B, 4 RBI
LA Angels 5, Seattle 1
LA Angels: Luis Rengifo: 2-4, 2 HR (15), 3 RBI
Minnesota 3, Cleveland 0
Minnesota: Joe Ryan: 7.2 IP, 3 H, 0 ER, 5 K
Chicago White Sox 11, Detroit 5
Chicago White Sox: Eloy Jimenez: 3-4, 2B, HR (14)
NY Mets 7, Pittsburgh 3
Atlanta 5, Philadelphia 2
LA Dodgers , San Francisco
San Diego 6, Arizona 1
San Diego: Juan Soto: 3-4, 2B, HR (25); Yu Darvish: 6 IP, 1 H, 0 ER, 8 K
Cincinnati 3, St. Louis 0
Boston 13, Kansas City 3
Boston: Rafael Devers: 4-6, 2B, 3 RBI
Miami 3, Washington 1
Miami: Sandy Alcantara: 9 IP, 7 H, ER, 7 K
Colorado 4, Chicago Cubs 3
Reach out to bdoc1997@gmail.com to get the Monday Morning Clip sent directly to your email.
---