Monday Morning Clip - Football is Back!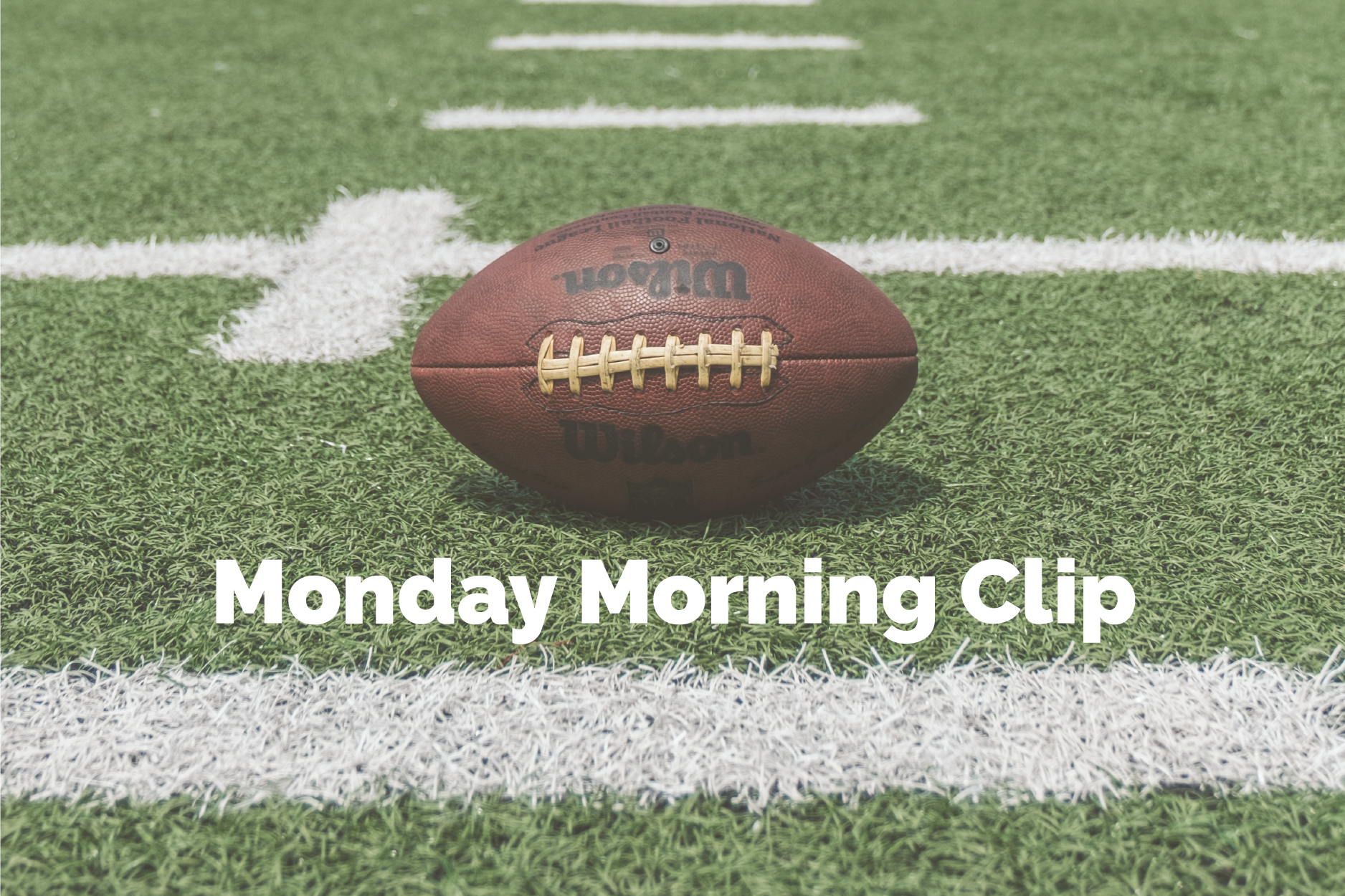 Week 1 got started with Josh Allen and Buffalo's defensive line getting off to a hot start to top the defending Super Bowl champion Rams. Cincinnati's sacks, turnover miscues, and missed field goals kept them from getting the win against Pittsburgh. Tampa Bay topped Dallas in a game where offense was hard to come by. In a pair of high-flying debuts, Khalil Mack and the LA Chargers bested Davante Adams and the Las Vegas Raiders. In his first game without Tyreek Hill, Patrick Mahomes looked just fine as they cruised to a win over Arizona. In a battle of strong run games, Philadelphia held off a late comeback from Detroit. Turnovers thwarted Green Bay in their opener against Minnesota. In his debut for his new team, Baker Mayfield nearly led a comeback against his old team, but a late field goal saved the day for Cleveland. A second half surge by Chicago put them over San Francisco. Jameis Winston's 4th quarter comeback led New Orleans to a win in Atlanta. Miami got the win over an inept New England offense. The Giants pulled off a comeback win in coach Brian Daboll's debut. Carson Wentz threw 4 TD passes in his winning Washington debut. A 17-point fourth quarter by Indianapolis sent them and Houston into OT, and they…tied.
NFL
Pittsburgh 23, Cincinnati 20 (F/OT)
Cincinnati's first possession started with the first of seven sacks on the day and ended the next play with a pick-six for Minkah Fitzpatrick (Joe Burrow: 33-53, 338 yds, 2 TD, 4 INT). Cincinnati would turn the ball over three more times during the first half (2 INT including this one and a fumble), resulting in 10 points for Pittsburgh, who ended the first half leading Cincy 17-6. Cincinnati got on the board first in the second half and converted the two-point conversion, leaving them down 17-14. From there, none of Pittsburgh's drives went for more than 15 yards (they managed a 48-yard field goal to make it 20-14) while Cincinnati took one drive to Pittsburgh's 36 only for Burrow to throw his fourth interception and another drive to Pittsburgh's 2 only to turn the ball over on downs. Finally, Joe Burrow found Jamarr Chase (10 rec, 129 yds, TD) for a 6-yard TD with 2 seconds remaining, but Evan McPherson's extra point was blocked, sending the game to OT. After Evan McPherson missed a 29-yard FG to win it in OT and Chris Boswell missed a 55-yard FG off the upright, Boswell got another chance and won it for Pittsbugh on a 53-yard FG. Cincinnati had 32 first downs and 432 total yards compared to 13 first downs and 267 total yards for Pittsburgh. TJ Watt is believed to have torn his pectoral in the game.
Tampa Bay 19, Dallas 3
In a first half without touchdowns, Tampa Bay did not punt once, and Ryan Succop hit four of five first half field goals and Tampa Bay led 12-3 at halftime. Late in the third quarter, Tom Brady found Mike Evans for the first touchdown of the game and from there, Dallas resorted to going for it on fourth down and while they managed to convert two, three of their last four possessions ended with turnovers on downs. Dallas managed just 244 yards on the game and converted just 3 of their 15 third downs. For Tampa Bay, Leonard Fournette managed 127 yards on the ground with 21 attempts. Dak Prescott injured his hand in the game and will require surgery.
LA Chargers 24, Las Vegas 19
After trading field goals on their opening possessions, LA scored the first touchdown of the game early in the second quarter. Before the first half ended, a Derek Carr interception gave them the ball on Las Vegas' 31 with 45 seconds remaining, and they scored again two plays later to end the first half up 17-3 (Carr: 22-37, 295 yds, 2 TD, 3 INT). Las Vegas outscored LA 10-7 on their next two possessions, but Derek Carr threw two more picks on the next two possessions. Fortunately for Las Vegas, LA didn't score off the turnovers. Las Vegas scored one more touchdown and got the ball back with 3:30 left and an opportunity to win it, but they turned the ball over on downs. For LA, Justin Herbert had a strong opener, completing 26 of his 34 passes for 279 yards and three touchdowns. In his Las Vegas debut, DaVante Adams caught 10 passes for 141 yards and a touchdown. Khalil Mack had three sacks in his LA Chargers debut (LA had six total).
Kansas City 44, Arizona 21
Patrick Mahomes had three touchdown passes in Kansas City's first three possessions and Kansas City led 23-7 at halftime. Kansas City also had three touchdowns on their first three possessions of the second half and at one point led 37-7. Arizona scored twice in the fourth quarter to make it more respectable, but the game was already well in hand at that point. Mahomes completed 30 of 39 passes for 360 yards and 5 touchdowns, with 121 yards and 2 of the touchdowns going to Travis Kelce. Five of Arizona's drives were less than 10 yards and they were outgained 488-282 by Kansas City.
Philadelphia 38, Detroit 35
After Detroit scored a touchdown on their first possession, Philadelphia erupted for 24 points in the second quarter that included a pick-six by James Bradberry. After scoring on their first two possessions of the second half, Philadelphia led 38-21 late in the third. Detroit ultimately scored touchdowns on three of their four possessions in the second half, but Philadelphia's strong running game ensured Detroit never got the ball back after their final touchdown with 3:51 remaining. Picking up where they left off last season, Philadelphia 39 times for 216 yards and four touchdowns (Miles Sanders: 13 rush, 96 yds, TD; Jalen Hurts: 18-32, 243 yds, 17 rush, 90 yds, TD). Detroit's running game was also strong, with DeAndre Swift running for 144 yards and a touchdown on 15 carries. Beyond the ground game, AJ Brown had a strong debut for Philly, catching 10 passes for 155 yards.
Minnesota 23, Green Bay 7
After a slow start offensively for Green Bay, they managed to make it to Minnesota's 1 yard line midway through the second quarter, but were stopped for a turnover on downs. Already down 7-0 at that point, Minnesota would score on their next two possessions while Green Bay only managed a 3-and-out and an interception, ending the first half down 17-0. A fumble on their own 33 ended their first second half possession and set up another Minnesota field goal. Strong running by Aaron Jones and AJ Dillon finally got them on the board late in the third, but another turnover on downs with less than four minutes remaining snuffed out any last ditch chances of winning. Kirk Cousins threw for 277 yards and 2 touchdowns on 23 of 32 passing, with 184 yards and both the touchdowns (including this one) going on 9 passes to Justin Jefferson. Green Bay actually had more first downs than Minnesota in this game, but Minnesota had no turnovers.
Cleveland 26, Carolina 24
After a scoreless first quarter for both teams, a Baker Mayfield interception gave Cleveland the ball in Carolina territory, setting up a touchdown pass from Jacoby Brissett to Kareem Hunt. Kareem Hunt followed that with another touchdown and after a field goal, they went into halftime leading 17-7. Cleveland only managed a field goal in the third quarter and from there, Carolina scored next early in the fourth. On Carolina's next possession, Baker Mayfield found Robby Anderson for a 75-yard touchdown, cutting Carolina's lead to 23-21. A 34-yard FG on their next possession gave Carolina the lead, but a roughing the passer call gave Cleveland the ball on their own 40. From there, they set up a 58-yard field goal by Cade York to save the win. Cleveland outgained Carolina 217-54 on the ground, thanks in large part to Nick Chubb, who had 141 yards on 22 carries.
Chicago 19, San Francisco 10
In a game that was eventually completely soaked by rain, neither team scored until Deebo Samuel punched in a 6-yard run early in the second quarter. After a field goal on their first second half possession put San Francisco up 10-0, Chicago mounted their comeback starting when Justin Fields found Dante Pettis for 51-yard TD. Fields found Equanimeous St. Brown for another one on their next possession, and a Trey Lance interception gave them the ball on San Francisco's 21, setting up a touchdown on a third straight possession. San Francisco turned the ball over on downs twice to end the game, ensuring the win for Chicago. Chicago only had 204 yards of total offense (SF had 331), with 156 coming on their first two touchdown drives.
New Orleans 27, Atlanta 26
After initially going down 3-0, a 57-yard run by Taysom Hill put them in the red zone and an 11-yard run in the same drive gave them the 6-3 lead. Atlanta soon responded with a touchdown of their own, with Cordarelle Patterson running one in from 5 yards out (22 rush, 120 yds, TD). A pair of field goals on their last two first half possessions put them up 16-7. A 39-yard pass interference call put Atlanta on the 2-yard line in their first third quarter possession, and Mariota ran it in from 2 yards out to put them up 23-10. Early in the fourth, a four-pass drive by Jameis Winston was enough for 75 yards and 6 points, cutting the lead to 26-18 (one of them). Their next drive was also without run plays, and they found the end zone 8 plays and 85 yards later, cutting the lead to 26-24. On their final possession, they made it to Atlanta's 33 before Will Lutz hit the game-winning field goal with 19 seconds remaining. After playing only 7 games last season, Michael Thomas scored twice today and Jarvis Landry had 114 yards.
Baltimore 24, NY Jets 9
National Anthem from MetLife. After a first half with very little offense, a pass interference call put Baltimore in Jets territory and Lamar Jackson found Devin Duvernay for the first touchdown of the game, sending them into halftime up 10-3. After a bad punt by the Jets gave Baltimore good field position, Jackson found Duvernay again to go up 17-3. On Baltimore's next possession, Jackson found Rashod Bateman for a 55-yard TD to put them up 24-3. The next two Jets' drives ended inside Baltimore's 30, but they didn't manage any points (fumble, turnover on downs) until there was just a minute remaining on the clock. The Jets ultimately had 24 first downs and 378 total yards compared to 13 and 274 for Baltimore.
Miami 20, New England 7
Miami got the game's first touchdown in the middle of the second quarter when Melvin Ingram ran in a Mac Jones fumble for a touchdown. On Miami's next possession, Tua Tagovailoa found Jaylen Waddle for a 42-yard TD, putting them up 17-0 going into halftime. New England scored on their first second half possession, but the most their offense produced from there was a drive that ended in a lost fumble just inside Miami territory. In his Miami debut, Tyreek Hill caught 8 passes for 94 yards.
NY Giants 21, Tennessee 20
Tennessee got on the board with a touchdown in their first possession (set up by this 46-yard punt return by Kyle Phillips), and two more field goals put them up 13-0 at halftime. During the Giants' first second half possession, a 68-yard run by Saquon Barkley set up the Giants' first touchdown (also scored by Barkley), and Daniel Jones found Sterling Shepard for a 65-yard TD on their next possession to tie the game at 13. Tennessee struck back on their next possession with a drive capped off with a 23-yard TD pass from Ryan Tannehill to Dontrell Hilliard to retake the lead. After a few punts, a 33-yard run by Barkley put New York in Tennessee territory, which led to a touchdown and the 2-point conversion that gave them the lead with 1:06 remaining. Tennessee had an opportunity to win it, but Randy Bullock missed the potential game-winner from 47 yards out. Brian Daboll in the locker room later
Washington 28, Jacksonville 22
Washington scored touchdowns on their first two drives of the game and both teams missed opportunities to score late in the second quarter, resulting in Washington leading 14-3 at halftime. A 49-yard pass from Lawrence to Christian Kirk (Kirk: 6 rec, 117 yds) set up a touchdown in Jacksonville's first possession of the second half. They hit a field goal on their next possession, and back-to-back Washington interceptions gave them 10 more easy points, putting them up 22-14. From there, Wentz (27-41, 313 yds, 4 TD, 2 INT) found Terry McLaurin for a 49-yard TD pass, and on their next possession, Wentz found Jahan Dotson for his 4th TD pass of the game, giving Washington the lead. Jacksonville had one more opportunity, but Lawrence was picked off with 1:10 remaining, sealing the win for Washington.
Houston 20, Indianapolis 20
Near the end of a first half where both sides were inept offensively, a pass interference call put Houston in Indy territory, and they scored the next play on a pass from Davis Mills to OJ Howard to put themselves up 10-3 going into the half. Houston went up 20-3 after scoring in their first two possessions of the second half, but Indy's offense got going in the 4th after a Houston fumble gave them the ball on Indy's 20. On their next possession, their 7-play, 80-yard drive was capped off with a 15 yard TD pass from Matt Ryan to Michael Pittman Jr. (7 rec, 121 yds, TD) with 1:54 remaining. Both teams had one more opportunity in regulation and Rodrigo Blankenship missed a 42-yard field goal to win it in OT, but neither side succeeded. Jonathan Taylor had 161 yards and a touchdown on 31 carries, and Indianapolis had 517 yards of total offense compared to 299 for Houston.
Buffalo 31, LA Rams 10 (played Thursday Night)
Josh Allen (26-31, 297 yds, 3 pass TD, 2 INT, 56 rush yds, TD) started the game with 10 straight completions, getting them off to a fast start and a touchdown on their first possession. That progress slowed when they turned the ball over on three of their next four possessions (2 INT, 1 fumble). On the other end, LA got points on their last two possessions of the first half and went into halftime tied 10-10. From there, Buffalo scored three touchdowns on their first three possessions of the second half, with the last one coming on a 53-yard pass from Allen to Diggs (Diggs: 8 rec, 122 yds, TD). Meanwhile, Stafford, who had already been sacked 4 times in the first half (7 total), was either sacked or intercepted on every LA possession during the second half. Despite the rough day overall for LA, Cooper Kupp still hauled in 13 passes for 128 yards and a touchdown.
Monday Night Football
Denver @ Seattle (+6.5); 8:15 PM
---
College Football
#1 Alabama 20, Texas 19
Alabama: Bryce Young: 20-yard run with :27 remaining to set up game-winning FG
Texas: QB Quinn Ewers injured in first half, out 4-6 weeks (left shoulder sprain)
#2 Georgia 33, Samford 0
#3 Ohio State 45, Arkansas State 12
#4 Michigan 56, Hawai'i 10
#5 Clemson 35, Furman 12
Appalachian State 17, #6 Texas A&M 14
#7 Oklahoma 33, Kent St 3
Marshall 26, #8 Notre Dame 21
#21 BYU 26, #9 Baylor 20 (2 OT)
#10 USC 41, Stanford 28
#11 Oklahoma State 34, Arizona State 17
#20 Kentucky 26, #12 Florida 16
#13 Utah 73, Southern Utah 7
#14 Michigan State 52, Akron 0
#15 Miami 30, Southern Mississippi 7
---
MLB
NY Mets 9, Miami 3
NY Mets: Taijuan Walker: 7 IP, 5 H, ER, 10 K; Brandon Nimmo: 2-4, 2B, HR (14), 3 RBI; Tomas Nido: 3-4, HR (1), 3 RBI
Miami: Brian Anderson: 2-4, 2 HR (8), 3 RBI
St. Louis 4, Pittsburgh 3
St. Louis: all 4 runs came in 9th; Albert Pujols: 1-4, go-ahead HR (18 on the season, 697 career, passes Alex Rodriguez for 4th all-time)
Pittsburgh: Mitch Keller: 7 IP, 2 H, 0 ER, 6 K
LA Dodgers 11, San Diego 2
LA Dodgers (clinched playoff berth): Justin Turner: 2-4, 2 HR (13), 5 RBI
Philadelphia 7, Washington 5
Philadelphia: Rhys Hoskins: 2-3, HR (28), 4 RBI
Seattle 8, Atlanta 7
Seattle: Eugenio Suarez: 2-4, 2 HR (30), 2 RBI; Julio Rodriguez: 3-4, 2 HR (25), 2 RBI
Atlanta: Michael Harris II: 2-4, 2 HR (18), 4 RBI
NY Yankees 10, Tampa Bay 4
NY Yankees: Gleyber Torres: 2-4, 2 HR, 4 RBI
Houston 12, LA Angels 4
Houston: Alex Bregman: 1-3, GS (21), 4 RBI
Cleveland 4, Minnesota 1
Oakland 10, Chicago White Sox 3
Oakland: 6 runs in 5th inning; Cole Irvin: 7 IP, 4 H, 2 ER, 5 K; Vimael Machin: 3-5, 2B, 3 RBI; Tony Kemp: 3-4, HR (5), 3 RBI
Boston 1, Baltimore 0
Baltimore: Kyle Bradish: 7 IP, 2 H, ER, 3 K
San Francisco , Chicago
Milwaukee 7, Cincinnati 6
Milwaukee: Rowdy Tellez: 3-5, 2 HR (30), 4 RBI
Kansas City 4, Detroit 0
Kansas City: Brady Singer: 7 IP, 4 H, 0 ER, 6 K
Texas 4, Toronto 1
Arizona 12, Colorado 6
Reach out to bdoc1997@gmail.com to get the Monday Morning Clip sent directly to your email.
---