Monday Morning Clip - NFL Week 10 & More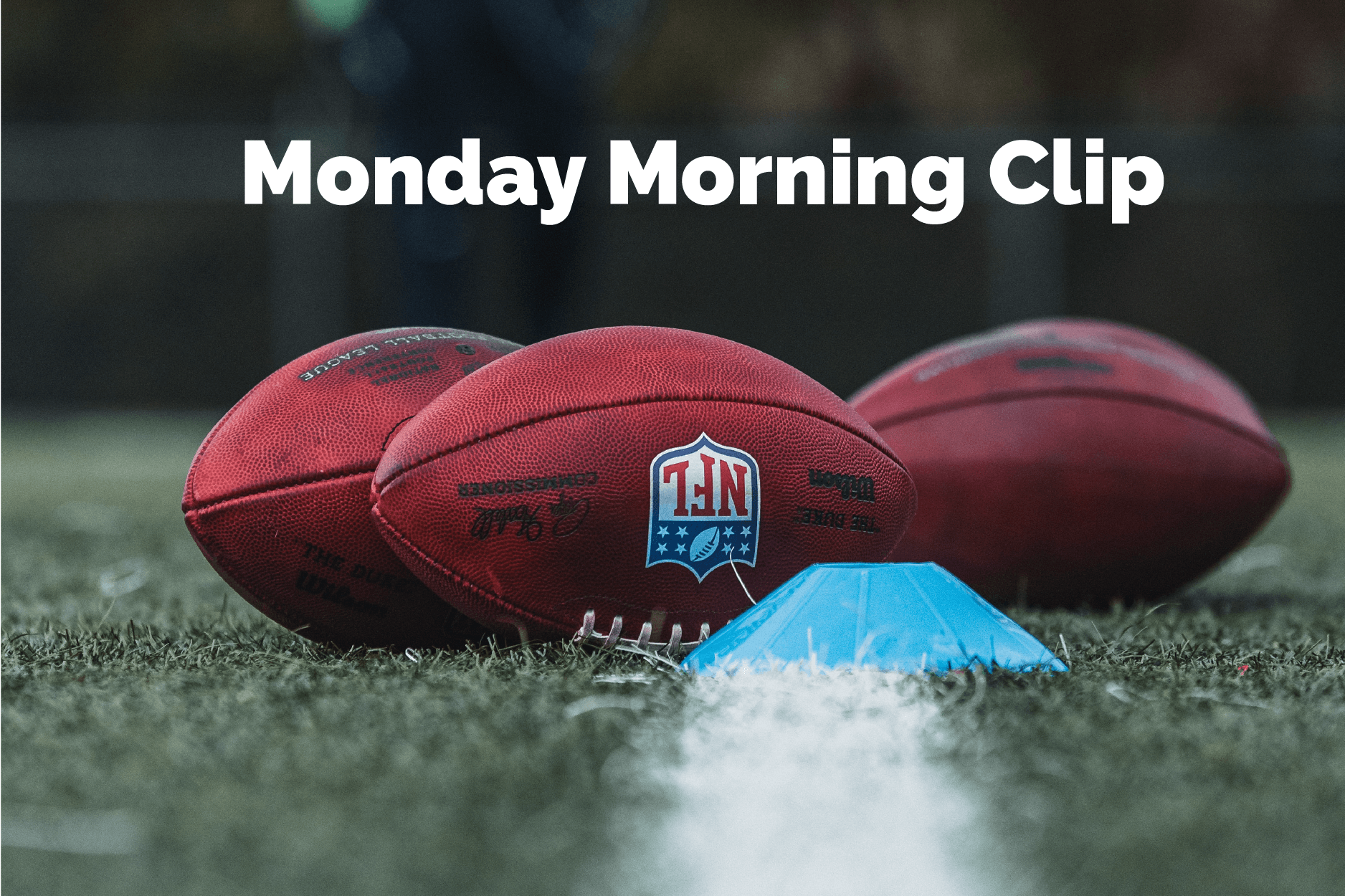 Other than having an insatiable rebel streak, I don't know why I became a Buffalo Bills fan. My dad is from Buffalo, but each of my siblings broke for the Philadelphia Eagles. I chose a team that did not make the playoffs until I turned 20 . My other non-local team, the Boston Red Sox, won the World Series the year I started following baseball and I've stuck with them ever since. Their uniforms, while not green (a color I still believe belongs only on grass), were among the worst in the league at the time. Furthermore, they were never on TV. Now, none of those issues apply: they are a consistently good team with good uniforms, they are on TV regularly, and their fan base is notorious nationwide. I'm proud to claim that I was a fan before Josh Allen and Stefon Diggs made them good, or PFT Commenter made them cool. However, they seem to have games more often than not like yesterday where they find new ways to lose. Last year gave us the 13 second Kansas City game in the playoffs, the year before that gave us a loss on a Kyler Murray Hail Mary to DeAndre Hopkins, and the year before that Josh Allen did this in a playoff game we ended up losing in OT to DeShaun Watson and the Houston Texans. Unlike previous bizarre moments in Buffalo sports, I got to see them all live.
Beyond Buffalo, Green Bay pulled out a comeback victory in OT over Dallas. Kansas City kept rolling with a win over Jacksonville. San Francisco topped the LA Chargers, and Arizona topped the LA Rams. I feel like both LA teams taking a loss would have been more shocking at the beginning of the season. Justin Fields continues to impress running the ball, but Chicago dropped this one to Detroit. Denver's offense continued to struggle in a loss to Tennessee, while Miami's offense continued to roll in a win over Cleveland. Tampa Bay is .500 again after a win over Seattle in Munich, and Jeff Saturday got the win over Las Vegas in his first game as an NFL Coach. The Giants kept rolling with a win over Houston, while Pittsburgh got a rare win over New Orleans. Carolina pulled out the win over Atlanta on Thursday Night.
In College Football, #4 TCU held off #18 Texas; which was the top threat to any undefeated team this weekend. #25 Washington knocked off #6 Oregon, #7 LSU won a close one over Arkansas, and #9 Alabama pulled out a close win over #11 Ole Miss. Arizona topped #12 UCLA as it becomes increasingly clear that there isn't one dominant team in the Pac-12 - only #8 USC has one loss.
In the NBA, a few players had massive nights last night - Joel Embiid had 59 points against the Utah Jazz, a team that traded away its two best players during the offseason and is still 3rd in the West right now. Darius Garland had 51 for Cleveland in a loss to Minnesota; D'Angelo Russell and Karl-Anthony Towns were a combined 22-29 from the field. In LeBron's absence, Anthony Davis had 37 points and 18 rebounds to secure LA's third win of the season against Brooklyn.
In the Premier League, a late goal by 18-year old Alejandro Garnacho put Manchester United ahead of Fulham. Manchester City took its second league loss of the season against Brentford. Arsenal won 2-0 over Wolverhampton and is now 5 points ahead of the rest of the league. Newcastle United beat Chelsea 1-0 and is currently sitting at 3rd in the Premier League. Darwin Nuñez scored twice for Liverpool in a 3-1 win over Southampton. Rodrigo Bentancur scored twice in the final 10 minutes to get the comeback 4-3 win for Tottenham over Leeds United. The Premier League returns to play the day after Christmas with the World Cup getting started in Qatar next Sunday. Something tells me this World Cup isn't going to give us songs like the 2010 World Cup in South Africa, which gave us Wavin' Flag and Waka Waka.
NFL
Minnesota 33, Buffalo 30 (OT)
After Kirk Cousins and Justin Jefferson connected for the first touchdown of the game, Devin Singletary ran in two touchdowns and Josh Allen found Gabe Davis for one more 28 seconds before halftime, putting Buffalo up 24-10 at halftime. After a Buffalo field goal opened up second half scoring, Dalvin Cook ran in an 81-yard TD to make it 27-17. From there, Josh Allen had a pass on 4th and goal at the 2 intercepted and from there, Minnesota scored another touchdown. Minnesota managed to get the ball to Buffalo's 1 yard line on a drive where Justin Jefferson made this catch on 4th and 18 to keep the drive alive, but turned the ball over on downs. However, Josh Allen fumbled the snap in his own end zone, and it was recovered by Minnesota. With 41 seconds remaining, Buffalo managed to get down the field and hit a 29-yard field goal to tie it and send it to OT. Minnesota hit a field goal on their first possession. Buffalo made it to Minnesota's 20 yard line, but Patrick Peterson intercepted Josh Allen, sealing the comeback win for Minnesota. Justin Jefferson had 10 catches for 193 yards and a touchdown.
Green Bay 31, Dallas 28 (OT)
After a first quarter where no team scored, Dak Prescott found CeeDee Lamb and Dalton Schultz for a touchdown each in the second quarter. He also threw two interceptions in the second quarter and Green Bay scored touchdowns three plays after both picks (one on a 58-yard pass from Aaron Rodgers to Christian Watson, the other on a 12-yard run by Aaron Jones), leaving the game tied at 14 going into half. Amari Rodgers fumbled on a punt return for Green Bay early in the third, giving Dallas the ball on Green Bay's 45 and setting up a 12-yard TD run by Tony Pollard. On Dallas' next possession, Prescott found CeeDee Lamb for the second time to put them up 28-14. Green Bay responded on the following possession with a touchdown on 4th and 7 from Rodgers to Christian Watson. On Green Bay's next possession, Rodgers connected with Watson for a third touchdown, tying the game and sending it to OT. After Dallas turned the ball over on downs, Green Bay hit a field goal to win it. For Green Bay, Aaron Jones had 138 yards and a touchdown on 24 carries. For Dallas, Tony Pollard had 115 yards and a touchdown on 22 carries and CeeDee Lamb had 11 catches for 150 yards and two touchdowns.
Kansas City 27, Jacksonville 17
After a fumble on Jacksonville's 9 yard line kept Kansas City from scoring on their opening drive, Patrick Mahomes threw three touchdown passes in the first half (the recipients being Kadarius Toney, Marquez Valdez-Scantling, and Noah Gray) and Kansas City led 20-0. Trevor Lawrence found Christian Kirk for a touchdown with 11 seconds remaining in the first half, but Kansas City still led 20-7 at the half. Mahomes threw his fourth touchdown of the day on Kansas City's first possession of the second half. Trevor Lawrence found Christian Kirk for a second touchdown with 5 minutes remaining in the fourth, but Kansas City converted two third downs and one fourth down to keep possession and seal the win.
San Francisco 22, LA Chargers 16
LA got going first on a 32-yard touchdown pass from Justin Herbert to DeAndre Carter. There were no more touchdowns until late in the first half when Jimmy Garoppolo punched in a QB sneak. LA hit their third field goal of the half on the next possession to go into halftime up 16-10. After a field goal in their opening possession of the second half, San Francisco finally took the lead on a 2-yard run by Christian McCaffrey midway through the 4th. LA only managed three punts, a turnover on downs, and an interception during the second half.
Detroit 31, Chicago 30
After both hitting field goals on their opening possessions, Jared Goff found Brock Wright for a 3-yard touchdown and Justin Fields punched in a 1-yard TD run, leaving the halftime score tied at 10. From there, Fields found Cole Kmet for touchdowns on both of Chicago's first two second half possessions (first one from 50 yards out). Detroit eventually responded with a 9-yard touchdown run and on the following possession, Jeff Okudah ran back a Fields interception for a touchdown to tie the game. On the possession after, Justin Fields ran in a 67-yard TD to retake the lead, but they missed the extra point. Several possessions later, Detroit converted a 3rd and 8 on a 44-yard catch and run from Jared Goff to Tom Kennedy, setting up a 1-yard touchdown run by Jamal Williams to take the lead with 2:21 remaining. Chicago got the ball back, but turned it over on downs. On 13 rushing attempts, Justin Fields ran for 147 yards and two touchdowns.
Tennessee 17, Denver 10
After the game started with nine straight punts, Russell Wilson and Jalen Virgil connected for a 66-yard TD (first career catch for Virgil). After Denver hit a field goal on their next possession, Tennessee got on the scoreboard with a 9-yard pass from Ryan Tannehill (first game since October 23) to Nick Westbrook-Ikhine with 12 seconds remaining in the first half. Tannehill and Westbrook-Ikhine connected again from 63 yards out on a flea flicker in the third quarter, giving Tennessee the 14-10 lead. They would hit one more field goal while Denver managed five punts and an interception all second half. Tennessee sacked Russell Wilson six times.
Miami 39, Cleveland 17
After Cleveland scored a touchdown on their opening possession on a 1-yard pass from Jacoby Brissett to Harrison Bryant, Miami tied it up on a 13-yard pass from Tua Tagovailoa to Alec Ingold and took the lead on their next possession with a field goal. Tua threw another touchdown to Trent Shortfield just before halftime and Miami led 17-7 at the half. Miami's offense stayed hot in the second half with touchdowns on their first two possessions (one on a 24-yard run by Raheem Mostert, the other on a 2-yard pass from Tua to Tyreek Hill) and later scored a third touchdown on a 20-yard run by Jeff Wilson after a Cleveland turnover on downs. Cleveland managed 10 points in its first two second half possessions (including this 33-yard run by Nick Chubb), but turned the ball over on downs on their last two possessions.
Tampa Bay 21, Seattle 16 (played in Munich, Germany)
After a scoreless first quarter, Tom Brady and Julio Jones connected for a 31-yard catch-and-run to open up scoring. On their next possession, Leonard Fournette punched in a 1-yard TD to go up 14-0. After Seattle opened up the second half with a field goal, Brady found Chris Godwin for a 4-yard TD to go up 21-3. In the middle of the fourth, Seattle finally scored their first touchdown on a 21-yard pass from Geno Smith to Tyler Lockett. On the next drive, Tom Brady was intercepted by Cody Barton, giving Seattle the ball at Tampa Bay's 45. Seattle scored soon after on a 4th down 19-yard pass from Geno Smith to Marquise Goodwin. From there, Tampa Bay held the ball for the remaining 3:58 to seal the game.
Indianapolis 25, Las Vegas 20
In Jeff Saturday's coaching debut, Matt Ryan (back starting for Indianapolis) punched in a 1-yard QB sneak to open up the scoring. Derek Carr found Foster Moreau for a touchdown before halftime, but Indianapolis hit two field goals to go up 13-7 at the half. Josh Jacobs ran a touchdown from 1 yard out to give Las Vegas the lead, but Indianapolis took the lead back on the next possession on a 66-yard run by Jonathan Taylor. Las Vegas pulled ahead once again on a 48-yard pass from Carr to Davante Adams, but several possessions later, Matt Ryan found Parris Campbell for a 35-yard TD. Las Vegas got the ball back, but turned the ball over on downs on Indianapolis' 16 yard line with 47 seconds remaining.
NY Giants 24, Houston 16
A 36-yard pass from Daniel Jones to Darius Slayton set up a 9-yard TD pass from Jones to Lawrence Cager. Houston managed just five punts and a field goal for the first half and trailed 7-3 at halftime. The Giants' offense got off to a hot start in the second half with a 54-yard TD from Jones to Darius Slayton and a 2-yard TD run by Saquon Barkley on their first two possessions. Houston managed a touchdown between the two by the Giants on a 12-yard pass from Davis Mills to Nico Collins, but turned it over on their next two possessions and only managed field goals later in the game. They still got within 8 points with 7 seconds remaining, but the onside kick failed. Barkley ran the ball 35 times for 152 yards and a touchdown.
Pittsburgh 20, New Orleans 10
Pittsburgh started the scoring with a 1-yard touchdown by George Pickens. Pittsburgh followed that with a field goal, but New Orleans hit a field goal and followed that immediately with a touchdown on a 15-yard pass from Andy Dalton to Juwan Johnson. After Pittsburgh missed a field goal, they hit a field goal the next possession and the possession after that following an Andy Dalton interception, Kenny Pickett punched in a 1-yard touchdown. New Orleans only managed two punts, two interceptions, and a turnover on downs all second half. No possession amounted to more than 11 yards. Kenny Pickett was sacked six times during this game, but Pittsburgh ran for 217 yards and two touchdowns on 43 carries.
Arizona 27, LA Rams 17
After the two teams traded field goals on their opening possessions, James Conner punched in a 4-yard TD run and following an LA Rams fumble on the next possession, Colt McCoy (in for Kyler Murray with an ankle injury) found AJ Green for a 6-yard TD to go into halftime up 17-3. Dean Henderson ran one in from 4 yards out to make it a one-score game, but James Conner ran in a 9-yard TD to maintain Arizona's lead. John Wofford found Van Jefferson for a 3-yard touchdown, but there were seven seconds left and Arizona was up 10.
Carolina 25, Atlanta 15 (played Thursday Night)
Carolina hit field goals on their first and last possessions of the first half, and Laviska Shenault ran in a swing pass 41 yards for a TD. Atlanta got on the board with a field goal right before half, but still trailed 13-3. Atlanta struck first in the second half with a 7-yard pass from Marcus Mariota to Drake London, but Carolina responded on the next possession with a 44-yard catch and run from PJ Walker to Terrace Marshall, which set up a 12-yard TD run by D'Onta Foreman. A field goal put Carolina 13 points ahead, but Mariota found KhaDarel Hodge for a 21-yard TD to hold onto hope. Atlanta got the ball one more time, but turned it over on downs. Carolina ran the ball 47 times for 232 yards and two touchdowns, and their defense sacked Marcus Mariota five times.
Monday Night Football
Washington @ Philadelphia (-11); 8:15 PM
Cincinnati, New England, NY Jets, and Baltimore had byes this week
---
College Football
#1 Georgia 45, Mississippi State 19
#2 Ohio State 56, Indiana 14
#3 Michigan 34, Nebraska 3
#4 TCU 17, #18 Texas 10
#5 Tennessee 66, Missouri 24
#25 Washington 37, #6 Oregon 34
#7 LSU 13, Arkansas 10
#8 USC 55, Colorado 17
#9 Alabama 30, #11 Ole Miss 24
#10 Clemson 31, Louisville 16
Arizona 34, #12 UCLA 28
#13 Utah 42, Stanford 7
#14 Penn State 30, Maryland 0
#15 North Carolina 36, Wake Forest
Boston College 21, #16 NC State 20
#22 UCF 38, #17 Tulane 31
#19 Kansas State 31, Baylor 3
#20 Notre Dame 35, Navy 32
---
NBA
Minnesota 129, Cleveland 124
Minnesota: D'Angelo Russell: 30 pts (11-13 FG), 12 ast; Karl-Anthony Towns: 29 pts (11-16 FG), 13 reb; Rudy Gobert: 15 pts, 13 reb
Cleveland: Darius Garland: 51 pts (10-15 3P), 6 ast
Washington 102, Memphis 92
Washington: Kristaps Porzingis: 25 pts, 6 reb; Deni Advija: 21 pts, 5 ast
Memphis: Dillon Brooks: 19 pts; Tyus Jones: 17 pts, 5 ast
Oklahoma City 145, New York 135
Oklahoma City: Shai Gilgeous-Alexander: 37 pts, 8 ast, 5 reb; Josh Giddey: 24 pts, 12 ast, 10 reb; Luguentz Dort: 24 pts (8-11 FG)
New York: Julius Randle: 25 pts, 10 reb; Cam Reddish: 26 pts; Immanuel Quickley: 24 pts
Philadelphia 105, Utah 98
Philadelphia: Joel Embiid: 59 pts, 11 reb, 8 ast, 7 blk; Tyrese Maxey: 18 pts
Utah: Malik Beasley: 18 pts
Denver 126, Chicago 103
Denver: Michael Porter Jr.: 31 pts (11-16 FG); Jamal Murray: 23 pts; Nikola Jokic: 8 pts, 14 ast, 6 reb
Chicago: Zach LaVine: 21 pts, 5 reb
Sacramento 122, Golden State 115
Sacramento: Domantas Sabonis: 26 pts, 22 reb, 8 ast; De'Aaron Fox: 22 pts, 8 ast; Keegan Murray: 21 pts
Golden State: Steph Curry: 27 pts, 6 ast; Andrew Wiggins: 26 pts
LA Lakers 116, Brooklyn 103
LA Lakers: Anthony Davis: 37 pts, 18 reb; Lonnie Walker IV: 25 pts
Brooklyn: Kevin Durant: 31 pts, 9 reb, 7 ast
---